8/16/2011
Product Profile: Stonehenge Signs Inc.
Stonehenge Signs Inc., a U.S.-based company, was established in 1978 as a founding producer of the sandblasted wood sign. Motivated to find solutions for costly maintenance and the repair of wood signs, Stonehenge Signs Inc. sought to identify a new medium of 100 percent real hand-crafted stone that would be far more durable while still retaining aesthetic appeal.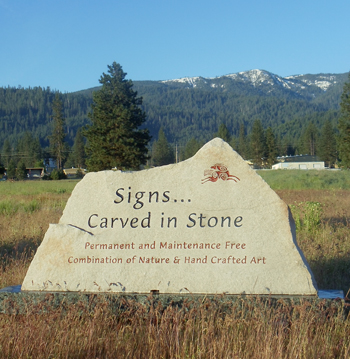 Stonehenge Signs Inc. proudly provides a combination of nature and hand-crafted art in custom signage made of 100 percent natural stone. Founded in 1978, Stonehenge Signs offers a wide range of stone signage that is tailored to each project's unique character.
Thirty years later, with the growing awareness and demand for sustainable products, Stonehenge Signs Inc. was positioned as an industry leader for custom signage made of all-natural stone that is virtually maintenance free, indestructible, and naturally beautiful.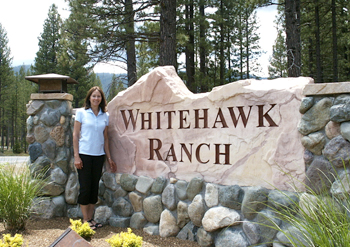 Using stone as our primary medium provides a product that combines pure aesthetic appeal with unmatched durability.
Within the sign industry, Stonehenge Signs Inc. is recognized as a world-class designer, and it is the design process that has brought the favorable attention. "We let our clients see their stone before any work begins," says Frankie Tapia, Stonehenge vice president. "We digitally place the chosen design on a photo of the selected stone. This helps the client visualize and make adjustments if needed before the precision engraving begins. There are no surprises, no second-guessing. The end product is exactly what the client approved at the outset. The sign's copy and graphics are custom designed to fit naturally onto the client's individual stone, then engraved deep into the stone surface and colored with a specific paint customized to match the client's logo or design. The painstakingly hand-crafted stone is then placed naturally into the project's landscape."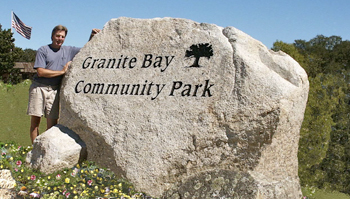 At Stonehenge Signs our specialty is creating a facility's most permanent and largest form of identification, its entry monument sign. Entry monument options are almost unlimited, and its presence will either create an identity for you or reinforce the brand identity you already have. An entry monument from Stonehenge Signs will leave a lasting impression on visiting clientele and provide a classic signature to your next project.

Clients choose from an extensive inventory of granite, sandstone, andesite, or a native stone quarried from the vicinity of the project site. Each sign system is custom-tailored to reflect the identity of the project. Life expectancy for these custom stone signs is unmatched with any other products on the market. The secret to this sustainability is a unique stone-specific paint that penetrates the surface of the stone and has an incredible 50-year life expectancy. Our expert craftsmen are capable of performing even the most demanding sign work in the field or at our production facility.

"One specialty of Stonehenge Signs Inc. is entrance monument signage, which is often a facility's largest form of identification and certainly contributes to positive lasting impressions. Our custom signage can be found from golf resorts and residential communities to municipalities and college campuses across the country from California to Florida. While entrance signage is a specialty," Tapia explains, "a comprehensive natural stone sign system will complement any facility's natural aesthetic appeal from the visitor's arrival until their exit, while adding beauty to the landscape for generations to come."

The Stonehenge Signs Inc. team would like to work with you in creating a lasting signature for your next project. Please contact Frankie Tapia at 888-777-0970 or visit www.stonehengesigns.com.