Revitalizing Communities with Parks
Use the

icon above to adjust the
sound
. Select the

icon above to watch in
full-screen mode
.
To
download
video, go to
Vimeo and login.
Key Facts:
Many U.S. cities don't offer equal access to green space. For example, Los Angeles has 23,000 acres of parks, which puts the city in the top 15 in terms of total green space, but much of this parkland is near the mountains so most of the city's low-income, inner-city communities don't have any parks at all. Peter Harnik, director, Center for City Park Excellence at the Trust for Public Land, says in reality 3.8 million residents of L.A. are too far from "a park to use one easily, conveniently, or frequently." Similarly, in New York City, high-quality parkland is found in greater abundance in wealthier districts, while low-income communities don't enjoy the same access. More than half of the city's 59 community board districts were found to have less than 1.5 acres of parkland per 1,000 residents. A University of Chicago study found that communities with lower incomes, higher poverty rates, and higher proportions of racial and ethnic minorities also had the "fewest opportunities for community-level physical activity." Lack of green space is then not just about unfairness, it's about health. Low-income communities may have higher rates of health problems like obesity and asthma in large part because they don't have parks.  
(Source: "Urban Green: Innovative Parks for Resurgent Cities," Peter Harnik, Island Press, 2010 and  "Healthy Parks, Healthy Communities: Addressing Health Disparities and Park Inequalities through Public Financing of Playgrounds, and Other Physical Activity Settings,"
Trust for Public Land, Policy Brief, November 2005)
New parks can sprout up in the unlikeliest places. Low-income, inner-city communities are characterized by hardscapes – asphalt surfaces. When a community organizes and creates a plan for a new park, local governments can respond and purchase asphalt-covered areas like parking lots and transform them into public community parks. The average neighborhood park can run into the millions, but including a park budget in the initial master plan helps ensure local governments will finance it, and even partner with developers, local foundations, or conservancies to get it built. These types of projects can also come about if they are part of broader public-private urban redevelopment schemes aimed at providing housing, improving access to transit, and investing in the local environment. Transportation infrastructure like boulevards, rail lines, and trails can be expanded, greened, and designed to become easily-accessible parks. In addition, even landfills, rooftops, reservoirs, and cemeteries can be turned into parks.  (Source:"Urban Green: Innovative Parks for Resurgent Cities," Peter Harnik, Island Press, 2010)
Park design needs to be compelling so people visit and forge community ties there. Parks that are designed for local residents and include them in the design process often do the best. New York City's famed Central Park, designed by ASLA-Founder Frederick Law Olmsted, and Bryant Park, designed by Laurie Olin, FASLA, are two examples of great community parks designed for people. The 843-acre Central Park has many "functional areas," including game fields, gardens, skating rinks, a boating lake, and winding paths that offer "dozens and dozens of different kinds and moments of experience " says Sarah Goldhagen, architecture critic for The New Republic. Bryant Park's movable café table and chairs set under a rich tree canopy and spread around a central lawn enable people to easily form groups or stay on their own. The park is now viewed as a model for how public places can facilitate human interaction. Human interaction isn't just needed to make a popular and sustainable park, new research demonstrates that people with strong community ties also live longer healthier lives. Parks provide the space for communities to form.
(Source: "Goldhagen: 'Democracies need physical spaces," The Dirt and "Bowling Alone," Robert Putnam)
This animation is designed to be a basic introduction to sustainable design concepts, created for the general public and students of all ages. We look forward to receiving your comments.
All Animations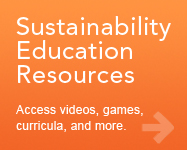 Related Projects