11th Annual LAND8 Happy Hour!
10/15/2018Leave a Comment
Land8 "Happy Hour" Comes Full Circle in Philly
If you've ever attended the ASLA National Meeting and EXPO over the last decade, there's a good chance you attended or at least heard about the famous Land8 Happy Hour that bills itself as "The Largest Party for Landscape Architects in the World." It's only natural that the largest gathering of landscape architects (ASLA Meeting + EXPO) also includes the largest social event too with over 700 attendees expected at the Happy Hour.
The 11th Annual Land8 Happy Hour returns to the city of its first Happy Hour in 2008 on October 21 at 8pm and includes an open bar, limited edition t-shirt, photo booth, networking, raffles, pub games, and dancing! Visit land8.com for more information.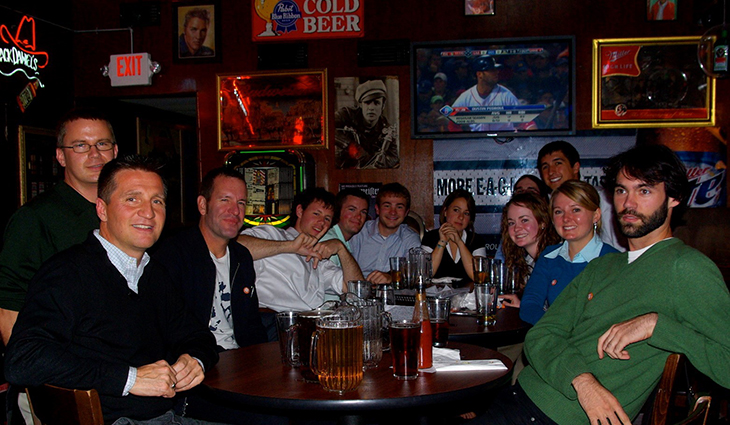 The first Land8 Happy Hour in Philly in 2008.
So why is it called a "Happy Hour" if it's a late night event? Land8 Managing Partner, Matt Alcide, states that it's a nod to Land8's humble beginnings. At the inaugural Land8 Happy Hour in Philadelphia in 2008, it truly was a traditional happy hour with about a dozen attendees and a few pitchers of beer. While the size of the gathering has changed, the purpose has not, which is to bring landscape architects together in a relaxed informal setting to kick back after long days of meetings and educational sessions.
If you're in town Sunday evening 10/21 in Philly, be sure to get your tickets ahead of time at land8.com! The Land8 Happy Hour is made possible by the event sponsors Anova Furnishings, Vectorworks, and Permaloc.
The Land8 Happy Hour has grown to over 700 attendees.
Land8: Landscape Architects Network is the social network for landscape architects. Supported by its millions of visitors and social media followers, Land8 promotes the profession of landscape architecture and provides a valuable resource for both professionals and those interested in the work of landscape architects.