10/21/2013
Policy Shaper: Keith Robinson, ASLA
Keith Robinson, ASLA, is principal landscape architect, Division of Design, Landscape Architecture Program, Caltrans. He is interviewed by Robin Lee Gyorgyfalvy, FASLA, Forest Scenic Byways Program Leader and landscape architect, Deschutes National Forest, United States Forest Service.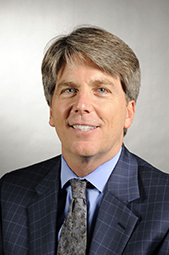 What led you to the field of landscape architecture? 
My dad had a great but subtle influence on my career choice. He cultivated my interest in the outdoors and plants when I was very young. Over time, landscape architecture seemed to be the only logical path to channel my interest in design of the environment, human factors, horticulture, and creativity.
What has been your pathway to Caltrans (school, role models, studies, travels, interests, etc.)? 
In my junior year of high school, my dad rented office space in one of his Bay Area buildings to a small architecture and planning firm and encouraged me to visit them to learn about the design professions. I was taken by the landscape architect's work, which was my first exposure to environmental design, and I thought, this is for me! At Cal Poly San Luis Obispo, I chose to do a site design for a transportation-related project in my third-year design studio that really focused my attention on the impact transportation has on people in their daily lives. Through project development, I recognized the connection landscape architecture has between transportation, quality of life, community vitality, and livability and knew this was an area of the profession in which I could contribute. I worked in the private sector for a number of years after graduation on commercial and estate work for a small design firm. Although I enjoyed the work, especially the estate projects with virtually unlimited budgets, it was not my career of choice. I had an interest in improving public spaces that would be experienced by more people than a typical commercial or residential project.
My first position at Caltrans was in Los Angeles in the most junior position available, but that office had a reputation at the time of building the expertise of their staff, so I accepted the job offer. From there, as I worked for Caltrans in the Bay Area and Sacramento, each position provided me with more responsibility and influence. The trade-off was that I was no longer a project designer.
What do you think your most important contribution has been for landscape architects in the public realm? 
It's an exciting time for landscape architects in the public realm, especially those practicing in the transportation sector as the word "livability" is gaining household recognition. "Livability" is a concept that summarizes the core values and interests that landscape architects have always had: an interest in the vibrancy of natural and social resources. We've always been concerned about ecological health and the quality of life for people using the space. Many of us who practice in the public realm as transportation landscape architects contribute to the health and well-being of the profession as a whole.
The 240 Caltrans landscape architects have been the spark that expanded many areas of the profession. We've long seen how the design of transportation systems influences the social, ecological, and public health of communities. Professionally, this translates into our ability to promote meaningful engagement of stakeholders in project decision making, developing and implementing innovative erosion control techniques, promotion of the use of endemic native plants, protection of scarce water resources, and the development of comprehensive Visual Impact Assessments (VIAs), which are just a few that come to mind. An area of personal interest has been to provide an emphasis on professional development opportunities to landscape architects at Caltrans, focusing on leadership, public service, communication, technical aspects and innovation. Our transportation landscape architects have involvement with almost all projects on the state highway system and many projects that are not on the system. Because Caltrans landscape architects are most familiar with transportation design and the project development process, we are the consultant of choice for many local cities, counties, and transportation agencies that are doing work on the state system.
Strong, motivated, and respected landscape architects as project development team members make significant contributions to the public well-being. I am excited about our work to improve and formalize the use of VIAs in all our projects to meet California Environmental Quality Act and National Environmental Policy Act mandates. As part of the NEPA process, VIAs can be a significant tool to ensure proposed transportation projects do not degrade the visual environment. We were recently acknowledged by the Federal Highway Administration as the leader in policy, guidance, and implementation of VIA standards, and our model may soon influence federal policy and practices. The environmental process, whether NEPA or CEQA, includes numerous requirements with the intent of protecting environmental quality, and there are many advocates or regulatory agencies that have specific interests, but visual quality seems to need a watchdog. I value that transportation landscape architects around the nation have accepted a watchdog role to ensure VIAs are technically competent, defensible, and useful in ensuring protection of the visual environment.
What makes you wake up in the morning and motivates you? 
Caltrans has many very creative landscape architects on its staff. Managing the statewide landscape architecture effort with a daily goal to reduce roadblocks so that they can thrive within a large transportation agency composed primarily of engineering colleagues is a constant opportunity. Promoting what I term "the landscape architect's sensibilities"-creativity, innovation, and understanding of the connections between the built, natural, and social environments in all of the department's practices keeps me engaged. Transportation policy development is a fluid endeavor, constantly in motion due to federal, state, or local politics and an increasingly informed public.
What was your favorite and most successful project, and why was it so important to you and to others?   
I no longer do design work as a routine part of my job, but a few of the enjoyable projects I have been involved in include comprehensive highway corridor master planning in the Bay Area; reestablishment of the historic El Camino Real roadside mission bell markers from San Diego to Sonoma; gaining Federal Highway Administration approval to allow aesthetic texture to be included on safety barriers, which changed a national standard; as stated earlier, VIA policy and practice; and reconstructing the California system of safety roadside rest areas to include context-appropriate design at each of 87 rest-area sites. These are important to me because they have increased the public's appreciation of California's transportation system, improved the transportation experience or renewed the public's knowledge of California's environmental and cultural diversity and history, and demonstrated the skills of transportation landscape architects in nontraditional roles.
How do your global treks contribute to your fascination with the world of planning and design? 
I have been fortunate to be able to travel to many seemingly disparate areas of the world and have come to see that people, regardless of culture, background, or economic status, have many similar desires for their environment that can be met through sensitive and engaged transportation planning and design. As landscape architects, we typically have a broad but deep interest in the world around us and can figure out a way to apply or implement new ideas in our daily lives and projects. Understanding how European pedestrian and bicycle design standards increase nonmotorized travel and improve public health, how the techniques to establish climax plant communities in Mediterranean regions without the use of supplemental water, or the ways in which academia is leading the effort to ensure the public is involved in transportation decision making in Italy all provide opportunities to be more effective in my work in California. Great ideas are all around us, and for transportation landscape architecture, there are many opportunities to lead.
What would you say to someone deciding to embark upon a career in landscape architecture? 
The profession has room for many perspectives and areas of practice. Find the area you are passionate about and keep striving to perfect your skills so that you can contribute to making a difference. Many universities focus primarily on the design portion of the profession, which is a fundamental skill set for a well-rounded landscape architect, but there are so many areas that are available for the landscape architects. Research, public service, environmental law, local planning, NGO advocacy, and many, many other areas are in need of "the landscape architect's sensibility." The design-related practices seem to be the most affected by economic swings. Look outside the traditional design-related areas of practice for opportunities for a satisfying career.
What honors have you received for your outstanding work, and what was important about contributing a great deal of your time to professional organizations?   
I appreciate the various design awards for specific projects, and I enjoyed the recognition from city organizations related to my activities that have lead to "visioneering" plans and improvements to community character I have received over the years. But what I am most excited about is my involvement with the American Association of State Highway Transportation Officials Technical Committee on Environmental Design (TCED), the Transportation Research Board Committee on Landscape and Environmental Design (TRB AFB40), and past participation in the ASLA Public Practice Advisory Committee (PPAC). These national organizations are made up of some of the most impressive landscape architects in public and private practice. Both the TCED and TRB AFB40 allow landscape architects to have a significant role in influencing national transportation policy in organizations primarily made up of engineers. Both these committees have been instrumental in developing National Academy of Sciences (NCHRP) research projects that successfully changed design and planning practices. These committees, as well as the ASLA PPAC, have offered opportunities to expand the role of landscape architecture in the public sector and increase awareness of the accomplishments of public-practice landscape architects.