3/18/2013
Policy Shaper: Barbara Wyatt, ASLA
ASLA's Public Practice Advisory Committee's "Policy Shapers" present interviews with landscape architects who are active in shaping public policy either through their work or as volunteers. Every landscape architect is affected by public policy, and landscape architects have the opportunity to shape the policies that affect them. Here Lisa Pearson, ASLA, talks with Barbara Wyatt, ASLA.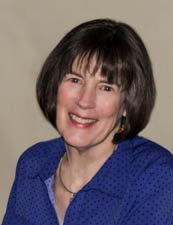 Barbara Wyatt, ASLA
What is your field of practice in landscape architecture?

I work in historic preservation. Specifically, I work for the National Park Service and serve as a historian/landscape specialist for the National Register of Historic Places and the National Historic Landmarks programs. Recently, I've been asked by my boss to lead the National Register Landscape Initiative. We'll be reviewing the guidance presently provided on evaluating and nominating various kinds of landscapes to the National Register, and suggesting modifications and additions to this guidance, found in the National Register bulletins, and to the National Register form.
Why did you decide to become a landscape architect, and how did that influence your attaining your current position?

I decided to become a landscape architect because of my interest in designed spaces, natural areas, historic places, and plants. My career began as a historic preservation planner for the Wisconsin Historical Society. With a BA degree in history from Hartwick College (1971) and an MS degree in planning from Utah State University (1978), I had a good academic background for the reemerging field of historic preservation planning. As I became more involved in the state and national preservation programs, I became increasingly more dismayed that public and private interests in historic preservation were almost exclusively focused on buildings. The neglect of historic landscapes in mainstream preservation programs was striking, so I decided to complete my degree in landscape architecture so I could work on historic landscape preservation on a variety of fronts. I got a BS in landscape architecture at the University of Wisconsin-Madison, selecting the undergraduate degree so I would have a strong design background. For several years I worked as a design/research consultant/sole practitioner, and then I returned to government preservation positions: first in municipal government, then in the federal government. I was the historic preservation planner for the city of Frederick, Maryland, and in 2007 I began my present job with the National Park Service. NPS was interested in my long background in historic preservation, but also my credentials as a landscape architect.
What projects, programs, and community groups do you serve?

Right now I'm involved in three historic preservation organizations in Frederick, Maryland, serving on the Frederick County historic preservation commission and on the board of the Landmarks Foundation of Frederick County. I'm also involved in a new grassroots historic preservation effort, the Frederick Preservation Trust. This group calls attention to private and public development that will have an impact on historic resources in Frederick. We were recently outspoken about the devastating impact of a proposed waste-to-energy incinerator on the viewshed of the Monocacy National Battlefield, which borders Frederick. We also designated the viewshed of the Frederick County portion of the Journey Through Hallowed Ground, a National Scenic Byway extending from Charlottesville, Virginia, to Gettysburg, Pennsylvania, as one of the 10 most endangered historic places in Frederick County. The rest of the endangered properties were historic buildings, but I was very glad that two historic viewsheds were included on the list.
What are some examples of how your work influences the community (and/or its natural systems)?

One of my most satisfying work experiences was designing a memorial at a former African American cemetery. The Laboring Sons Cemetery in Frederick, Maryland, had been converted to a playground in about 1950, with the playground developed on top of the many graves that had not been relocated. By 2000, the community was ready to acknowledge the inappropriateness of this development and commemorate the city's free black residents who were buried there. The playground was removed so the site could be developed as a memorial. I worked with individuals from Frederick's black community on the design and the celebrations for the memorial after construction. The design was challenging, because essentially the site had to be raised so graves wouldn't be disturbed. We were required to have an archaeologist on-site during all ground-penetrating construction, including planting trees. The project is a great example of the role of landscapes and landscape architecture in community healing.
What is the most rewarding aspect of your work in the public sector?

I get great satisfaction from working with preservation organizations and other preservation professionals to increase understanding and appreciation of historic landscapes. Despite years of efforts to integrate landscapes into mainstream preservation, there is still a great deal of misunderstanding and confusion about evaluating historic landscapes and fostering their preservation. When people demonstrate their appreciation of a historic landscape by working to get it listed in the National Register of Historic Places or designated a National Historic Landmark, I am richly rewarded. I expect the new National Register Landscape Initiative to be personally rewarding, and I anticipate it will contribute to greater recognition of the nation's important cultural landscapes.
Where do you find inspiration for your work?

I find inspiration from the people and landscapes I work with. For example, I was recently inspired by a ranching landscape in Wyoming, which I had the pleasure of touring with someone whose family had ranched this land for generations. My appreciation for the landscape was further enhanced when I attended a meeting of Wyoming preservationists, who obviously had a huge appreciation for their state's landscapes. That was inspirational.
What guidance or other sources of information would you share with other landscape architects who are looking to bring positive change in the public realm?

I believe we who serve the public need to make sure we hear what our constituents are saying: their questions, their needs for information, and their appreciation for the programs we represent. It is important for us to make sure we don't become so enmeshed in government processes that we forget the people and landscapes that benefit from our programs. I would also stress the importance of maintaining our identities as landscape architects, even when we're engaged in fields that seem only tangentially aligned with our field. Our professional expertise has the potential to effect positive change in many areas.