9/24/2012
Policy Shaper: Gary Scott, FASLA
Interview, as reported by Lisa Pearson, ASLA
What is your field of practice in landscape architecture?

Gary began his career in 1980 working for a multi-disciplinary firm focusing on park design and abandoned mine reclamation. The position offered a lot of opportunities at the time given the economy. The City of West Des Moines, Iowa, hired Gary in 1984 as a landscape architect and since 1990 he has served as the city's director of Parks and Recreation.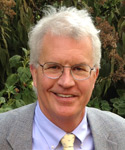 Gary Scott, FASLA

In his role as director he prepares and oversees system-wide plans for the park system and reviews park designs as well as performs various administrative tasks. Three other landscape architects in the department serve in the roles of the park superintendent, landscape architect, and park planner. Generally 5-10 percent of Gary's time is spent applying his landscape architecture skills, with the bulk of his time applied to finance, administration, and public relations with the public and other agencies. West Des Moines is a rapidly growing community where Gary, in partnership with staff, elected officials, and the public, has developed and articulated a vision for their park system expansion over the last 27 years. He equates seeing the system evolve to raising children.
Why did you decide to become a landscape architect, and how did that influence your attaining your current position?

Growing up in Sycamore, Illinois, Gary had never heard of landscape architecture and discovered the profession after studying several others. Gary started college in pursuit of an electrical engineering degree, switched to physics, then geography, and dropped out twice before finding landscape architecture. After dropping out of college the second time while unemployed he visited and spent five weeks with a friend in Boston, walking through Olmsted's Emerald Necklace almost every day. He was intrigued by this natural area within the city. His architect friend introduced him to the profession of landscape architecture which Gary researched at the Boston Public Library and discovered John Ormsbee Simonds' book, Landscape Architecture: the Shaping of Man's Natural Environment. After spending the day reading the entire book, he realized he had finally found the direction he was seeking, left Boston, and that summer began studies at the University of Wisconsin – Madison, a few hours north of his home in Illinois. This career path seems inevitable in retrospect considering his father was an engineer/inventor and his mother an avid gardener.
What projects, programs, and community groups do you serve?

The Wes Des Moines Park and Recreation Department serves the entire citizenry of West Des Moines and the region. That is its fundamental purpose; to serve the public and meet their parks and recreation needs. The city is always building and renovating the parks, recreation, and trail systems and has created landscape architecture, recreation, and maintenance positions to fill that need.
In landscape architecture, Gary started with himself and an intern and built the department from there, advocating and justifying the positions as they implemented their vision and their master plan. Gary is also the administrator for the Public Art Advisory Commission and the Bicycle Advisory Commission in West Des Moines, both of which he helped establish in 2011. He oversaw a consultant's preparation of a bicycle master plan to work towards integrating the bicycle into the city, modeled after other successful programs in Portland, Oregon; Boulder, Colorado; and Madison, Wisconsin, among others.
Gary became involved with ASLA in 1982. He met a variety of people and gained greater insight into the profession as he participated. His involvement heightened his appreciation for the visibility, respect, and viability of the profession, helping him develop a broader vision of how landscape architects function and interact with our society.
He believes that all landscape architects have a commonality of purpose:
We share an over-arching vision.
We value the landscape.
We unite artistic and scientific endeavors.
He believes this commonality is essential to our well-being and unity as a profession. Our efforts make places better.
Serving as President of ASLA afforded Gary the opportunity to visit many cities in the United States as well as China and Canada, witness a variety of landscape architecture, and meet an amazing number of landscape architects engaged in a wide diversity of practice. It was challenging and at times intimidating, but the human connections made were unbelievably rewarding, he says. Once he completed his service as national ASLA president, most of the work he had set aside or delegated to coworkers filled the void. His staff was more than ready to give up the political aspects of Gary's position.
What are some examples of how your work influences the community (and/or its natural systems)?

The parks system serves as an example of a more sustainable landscape and an educational resource for the community. It is also a heavily used resource, with more than 80 percent of the citizens visiting the park and trails system on an annual basis. His department strives for more low maintenance landscapes: naturalistic areas within the parks, prairie areas instead of lawn in less active areas, naturalized borders, and lower frequency mowing of lawn areas. Maintained lawn still covers approximately a quarter of the total park area in the city. Incorporating prairie and natural areas allows their staff more time to concentrate on the more active or visual areas within the system. They have gained a significant amount of property over the years but have reduced overall mowing. The community has developed an appreciation of the naturalistic aesthetic over time. The department designed brochures, newsletters, and programs to help educate the public and raise awareness of the value of a more natural and low maintenance landscape.
What is the most rewarding aspect of your work in the public sector?

The public service portion of Gary's work is the most rewarding. Being able to see the public's appreciation of the parks he stewards and helps to shape brings him great satisfaction. The parks department regularly conducts focus groups and surveys to measure their success. People like what we do, says Gary. There is heavy community involvement during any major facility project, site plan, or the updating of the master plan. This input helps Gary guide the development of the park system and helps to identify emerging market trends, one example being the current popularity of dog parks. West Des Moines opened the first public dog park in Central Iowa about nine years ago, and the demand has grown every year. The West Des Moines Park and Recreation Department has enjoyed a 90 percent or greater overall satisfaction rating from their citizens since 2002. Focus groups, surveys, and public meetings are critical and essential to produce good design and to provide a better product, allowing people to "buy into" the process and to help to define the program. All this extra investment up front identifies issues and trends early, leading to better design and less controversy down the road.
Where do you find inspiration for your work?

Gary originally found inspiration in the park design work of Frederick Law Olmsted and the garden designs and writings of James Rose. Rose's rebellious attitude particularly attracted him at the time he discovered the profession. On a day to day level he finds inspiration by spending time reconnecting with nature. He also finds inspiration in those who challenge the political system to protect natural areas and create parks for people and who work to educate people to understand and see the value of our natural areas.
He believes our country is in a period of renaissance for urban parks, a situation where there is much appreciation by the public and potentially more money to support the cause, despite declining public budgets nationwide. He likes being the diplomatic advocate, appreciating those who devote their lives to this cause and being inspired by others throughout the past years. It is a continuum of that vision that drives him to work in the public realm. This shared concept of public land has led to creating public spaces that are still melting pots of people and ideas, originally unique to the United States and now seen throughout the world. It is our political system that gave birth to the idea that we all have a stake in our public land.
What guidance or other sources of information would you share with other landscape architects who are looking to bring positive change in the public realm?

Landscape architects should be involved and volunteer in the community or a non-profit organization. They should learn how a community functions and develop a grassroots perspective. They should be aware of the important social and environmental issues of the day and learn how to express those ideas through speaking and writing.
Landscape architects should read outside the lines of the profession, including sociology, history, environment, and real estate. They must master the art of leading and working with multi-disciplinary teams and stretch their awareness outside daily life boundaries. They should learn how non-designers view aesthetics and learn the skill of simultaneously waiting for the right moment to act yet pushing hard for change to occur as fast as possible.
One example from West Des Moines is their Bike Master Plan. The firm ALTA was doing a master plan for the City of Des Moines that prompted the City of West Des Moines to hire them to create a bicycle master plan for West Des Moines as well. Landscape architects need to have a vision and constantly talk about it. Let your community perceive that you are always looking for more, always advocating for the future. Hold onto and embrace opportunities. Don't let lack of money stand in the way of a good vision and cause regret that you did not push harder for your agenda.