GREENING YOUR HOME
The Best Investment for Increasing Home Value: Landscape Architecture
| | |
| --- | --- |
| | |
| | Image courtesy of James van Sweden, FASLA |
Homes that have been professionally landscaped can fetch 15 percent to 20 percent more at the time of resale than homes with less attractive landscapes.
Design Tips
Think about what you want and how you will use your landscape. Formal entertaining, herb gardens, and children's playgrounds are all possibilities. Don't limit yourself to plants and trees; maybe you would like a fence, a fountain, a deck, a patio, or other outdoor element.
Make a realistic budget. One rule of thumb is to invest 10 to 20 percent of your home's value. If this seems steep, consider that landscape improvements return 100 to 200 percent of their cost when a house is sold—it's the best improvement you can make in terms of increasing resale value.
Look at books and magazines for ideas and start a file of plants, trees, gardens, yards, pools, patios, decks, fences, etc., that you like—or dislike—to show your landscape architect. This will help you communicate exactly what you want to achieve—or avoid.
To find residential landscape architects in your area, go to ASLA's Firm Finder at www.asla.org). Credentials are important. Landscape architects are licensed to practice in 48 states and must pass a rigorous exam. Members of the American Society of Landscape Architects (ASLA) have met their membership requirements and keep up with the latest technology and trends through ASLA publications and continuing education programs.
Interview several landscape architects and ask for references. A good designer will walk around the home and ask a lot of questions about your lifestyle, what you want to accomplish, and your budget. They will not hesitate to provide references for you to call or to answer questions you may have about their services and fees.
Ask about maintenance. Some homeowners enjoy working in their yards and gardens, some hire a service to do it, and others don't want to bother with it at all. Be sure to let your landscape architect know how you feel about the upkeep of your investment.
When (Re) Designing, Choose Green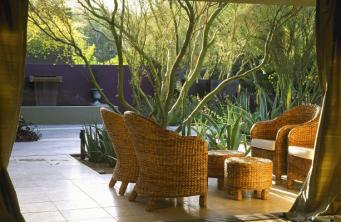 2006 ASLA Award Winner: Image courtesy of Steve Martino, FASLA
Use trees and vegetation to cut your summertime air conditioning use by shading all east- and west-facing windows. Shade windows from the outside with a covered pergola, strategically placed trees, or trellises with vines for a beautiful look inside and out. Create "outdoor rooms" for your family, such as cooking and dining areas. Spending more time and cooking outdoors reduce the need for air conditioning indoors.
Replace exposed concrete and asphalt driveways and walkways with pavers, which stay cooler, look better, and can even be placed to allow vegetation to grow through. Exposed concrete and pavement get heated by the sun, re-radiating unwanted heat indoors.
Use native plants common to your area to reduce watering and maintenance. Keep traditional lawn areas to a minimum or consider using ground-cover plants—many are sturdy enough to allow for play areas for children and pets. Use mulch in garden beds to reduce the need to water, and install a rainwater tank to collect stormwater for watering. Many landscape architects are working with clients to use "graywater" (such as condensation from a home's air conditioning) for irrigation and water features.
Recycle kitchen waste into garden compost. It's an effective and affordable way to keep your plants healthy and reduce garbage. Many good resources are on the web to help homeowners get started, including the U.S. Composting Council web site (www.compostingcouncil.org).
---
About ASLA
Founded in 1899, ASLA is the national professional association for landscape architects, representing more than 16,600 members in 48 professional chapters and 68 student chapters. Landscape architecture is a comprehensive discipline of land analysis, planning, design, management, preservation, and rehabilitation. ASLA promotes the landscape architecture profession and advances the practice through advocacy, education, communication, and fellowship. Members of the Society use their "ASLA" suffix after their names to denote membership and their commitment to the highest ethical standards of the profession. Learn more about landscape architecture online at www.asla.org.