ASLA CEO to Join Olmsted Network for Climate Webinar
4/18/2023Leave a Comment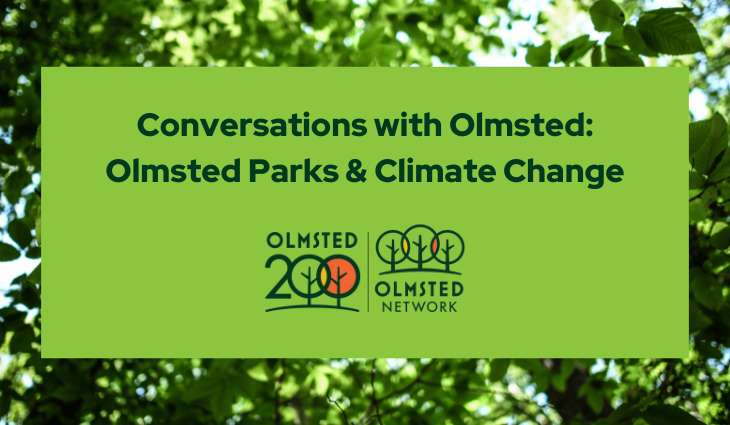 On April 25 at 3 pm ET, the Olmsted Network —
formerly the National Association for Olmsted Parks
— will welcome ASLA CEO Torey Carter-Conneen for
Conversations with Olmsted: Olmsted Parks & Climate Change
. Carter-Conneen will be joined by USA Today climate reporter Dinah Voyles Pulver (moderator), Central Park Conservancy Institute for Urban Parks Director of Thought Leadership Steven Thomson, and Brookline Public Works Commissioner Erin Chute Gallentine.
Carter-Conneen was appointed ASLA's CEO in 2020, and in 2021 led the development of ASLA's "2030 Vision," which affirms ASLA's focus on raising awareness of the interaction of people, planet, and space, thereby better positioning the organization to take on such challenges as climate change. In fact, ASLA has committed to cut greenhouse emissions by slashing the carbon footprint of its annual conference. During the program, he will speak more on ASLA's
Climate Action Plan
.
Frederick Law Olmsted, the founder of American landscape architecture, realized the environmental benefits of parks nearly 150 years ago, and designs by Olmsted and the Olmsted firm heralded modern principles of ecological health, conservation, and sustainability. Today,
Boston's Back Bay Fens
remains an extraordinary example of how Olmsted's visionary landscape design addresses flooding and sanitation by reclaiming natural systems. His linear parks and parkways show how healthy and connected green spaces serve as vital natural corridors for birds and wildlife.
Nevertheless, Olmsted landscapes— and parks in general— aren't immune to the effects of climate change. For example, wildfires continue to threaten Olmsted's California State Park System, and algal blooms and tree loss plague parks around the country— requiring thoughtful response and informed action.
On April 25 at 3 pm ET, we'll explore this and more as we gather for
Conversations with Olmsted: Olmsted Parks & Climate Change
to examine the challenges of climate change and the role that parks can play in producing a sustainable future. In so many ways, parks serve as an important line of defense against climate change. Consider the urban heat island effect, which happens when cities replace the natural land cover with dense concentrations of pavement, buildings, and other surfaces that absorb and retain heat. New and existing parks help ward off this phenomenon and can regulate temperatures, enhance local wind patterns, sequester carbon, and more.
This event is the 13th webinar in the popular— and continuing— Conversations with Olmsted series. Hosted by the Olmsted Network, these programs examine different aspects of Olmsted's far-reaching influence on America's physical landscape and social fabric. This program and Frederick Law Olmsted: Designing American Panel Discussion on April 27 will conclude the Olmsted 200 celebration.
We are grateful to ASLA and our nine other national partners for their participation during Olmsted 200. But this is not the end— please join the Olmsted Network in 2023 and beyond as we build on the energy of Olmsted 200 and continue to champion important investments in Olmsted landscapes across the country.
To find additional programs, visit our
website calendar
. To learn more about the Olmsted Network, continue to visit us at
www.olmsted200.org
and follow us on
social media
.
Register now
!