Views: Boston
3/7/2023Leave a Comment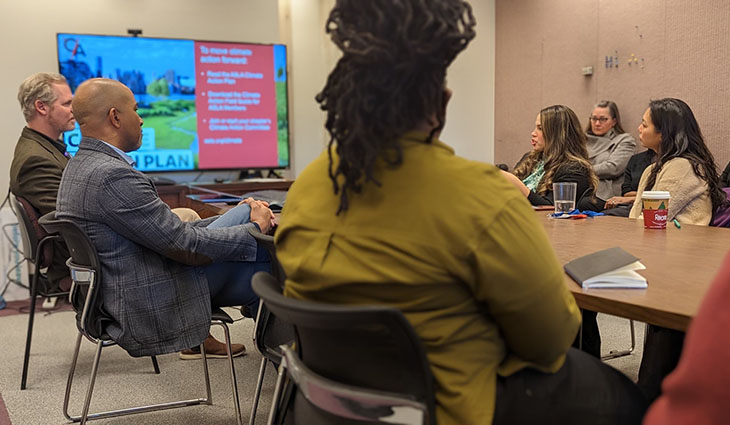 Welcome to my new travel blog where I share snapshots of the great work of our members as I travel around the country. If you missed the very first of these columns highlighting my trip to Denver, you can find that in the February 7th edition of the LAND Newsletter.

I traveled to Boston in early February at the invitation of Michael Grove, FASLA, to join him and the Sasaki team for an event at the Greek Consulate. That event was just one of the highlights of two exciting days of engagement with members and prospective members alike, including stops at the Boston Sasaki office, Boston Architectural College and Michael Van Valkenburgh Associates's office.

One of my key goals in making these trips is to build or deepen relationships for the advancement of landscape architecture as a profession–nowhere is that more important than in the realm of civic engagement as you'll see from my meeting with key staff in the office of Boston Mayor Michelle Wu. The city is making significant investments in green infrastructure and incorporating climate positive design solutions to improve public welfare and our members are leading the way!  If you haven't already engaged with your local mayor's office or members of the city council I encourage you to make plans to do so.

The Office of Boston Mayor Michelle Wu
Scott Bishop, ASLA, a member of the Climate Action Plan advisory committee, and I presented a brief overview of the Climate Action Plan to key staff in the Mayor's office including the Mayor's Chief of Staff, Tiffany Chu and Deputy Chief of Urban Design for the City of Boston, Diana Fernandez Bibeau, ASLA.

The City of Boston is leaning all the way in on nature-based solutions, highlighted by the increasing numbers of landscape architects working for the city. The staff expressed interest in connecting with other cities across the country in order to align with climate and biodiversity goals to achieve greater impact.

We also discussed ways to communicate the economic, well-being and accessibility co-benefits of incorporating climate positive design into projects. This is particularly important when funding often defaults toward gray infrastructure which is a business-as-usual reflex we are all working to change. The Mayor's team asked us to provide examples of what has worked in other cities to push green infrastructure forward when faced with state or federal regulatory challenges or roadblocks.

Boston Architectural College
I met with María Bellalta, FASLA, Dean of  Landscape Architecture at Boston Architectural College who gave me a tour and we discussed the unique aspects of the program and its history. Interestingly, BAC started as a professional club in 1889 and went on to become the first accredited architecture program in the US that included a work component. In later years they included programs in landscape architecture, interior architecture and design. BAC's inclusive ethos attracted many first and second generation immigrants who were excluded from other colleges and universities at the time.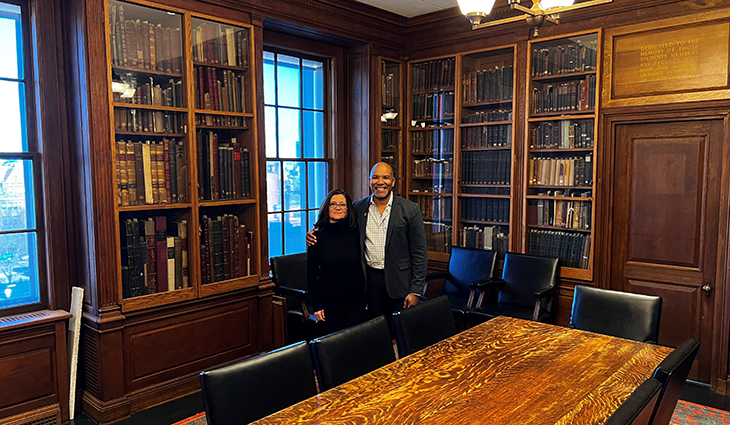 Pictured Maria Bellalta, FASLA and Torey Carter-Conneen, CEO of ASLA, image by ASLA
The Boston Chapter also convened a casual breakfast, hosted at BAC, where we discussed some of ASLA's advocacy efforts at the federal level and our continuous efforts to defend licensure in states across the country. We also had a rich conversation about DEI and I talked about our Women of Color Licensure Advancement Program  and our efforts to increase the diversity of our speakers and panelists at the annual conference.  
Greek Consulate
I joined Michael Grove, FASLA, from Sasaki for a presentation at the Consulate General of Greece.

Michael and the team presented on the multi-billion dollar project to design and build the Ellinikon Metropolitan Park and Coastal Front in Athens. They discussed all facets of the design process, including ecology and biodiversity. Attendees asked great questions and walked away with a richer understanding of landscape architecture and the complexity and scale of projects they are leading around the world. You can read more about the project in THE DIRT.

I also had a great visit with Laura Solano, FASLA, and winner of ASLA's 2022 Design Medal and Emily Mueller De Celis, both partners at Michael Van Valkenburgh Associates Inc. We discussed many of our ASLA Fund programs including our K-12 education work, the Women of Color Licensure Advancement Program and the ASLA Climate Action Plan. We shared ideas about how to scale these programs for greater impact and visibility.
Each of these experiences offer me insight into our profession and provide "on the ground" feedback and ideas from our members who share a deep connection and purpose and who make ASLA a diverse and growing community. I learn something new each time.
Next up, a trip to Ithaca to visit our New York Upstate Chapter and Cornell University. Stay tuned for more Views in April.