Upcoming ASLA Great Lakes Region Climate Action Seminar
1/24/2023Leave a Comment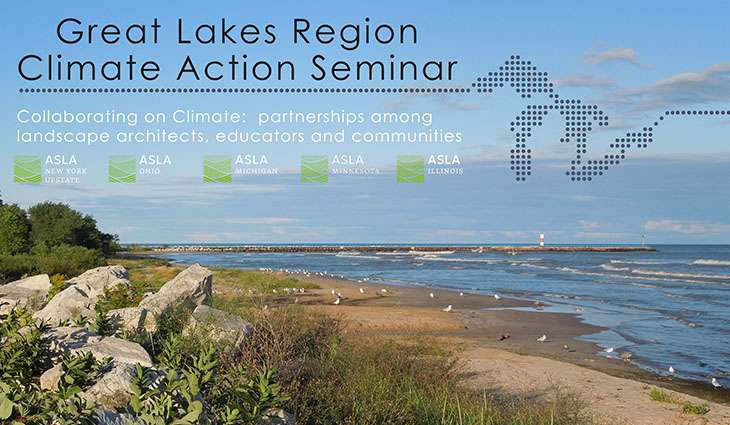 Registration Now Open!
Great Lakes Region Climate Action Seminar
February 9 & 10, 2023
Virtual Seminar
The NY Upstate, Ohio, Michigan, Minnesota, and Illinois Chapters of the American Society of Landscape Architects are excited to announce the
2023 Great Lakes Region Climate Action Seminar
. This is the second event in a series aimed to explore and expand landscape architecture's role regarding climate change impact occurring in urban and natural systems across the Great Lakes Region.
The theme is
Collaborating on Climate: Partnerships among landscape architects, educators, and communities to strengthen collective climate action
. For more information and to register visit:
Day 1:
https://www.eventbrite.com/e/502866847277
Day 2:
https://www.eventbrite.com/e/504196945637
ASLA volunteer leaders will present
ASLA Climate Action Plan: A Vision for 2040
on Friday, February 10 at 9:00am ET. ASLA is taking a significant step forward with its first Climate Action Plan. The ambitious plan seeks to transform the practice of landscape architecture by 2040 through actions taken by ASLA and its members focused on climate mitigation and adaptation, ecological restoration, biodiversity, equity, and economic development. The Climate Action Field Guide for ASLA Members sets out steps landscape architects can take today to address the climate and biodiversity crises.
This virtual event is supported by an ongoing national initiative, the
ASLA Climate Action Network
, to bring together regional ASLA chapter and university program leaders in conversation and action to address the most pressing climate change issues facing each U.S. region. ASLA seeks subject matter experts in each region to develop regional climate action networks and action plans. Join us in these conversations and help us grow a climate action network within our membership and beyond.
Find your chapter contact
.
Other
upcoming virtual events
from ASLA: