ASLA 2021 Conference in Nashville: Register Today
8/9/2021Leave a Comment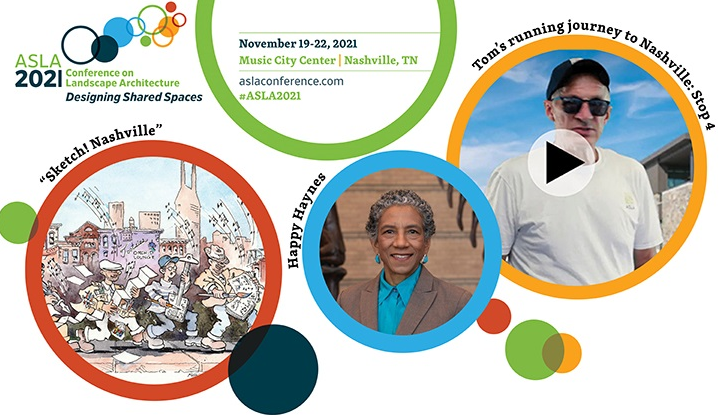 Explore highlights from the ASLA 2021 Conference:
Image credit: Robert Chipman and Chip Sullivan

Sketch! Nashville: Freestyle Journaling
Field Session Leader(s)
Chip Sullivan, FASLA, Professor, UC Berkeley
Robert Chipman, ASLA, Principal, Robert Chipman Landscape Architect, Inc, West Lake Hills, Texas
James Richards, FASLA, Owner, JamesRichardsSketchbook.com, Sarasota, Florida
Richard Alomar, ASLA, Department Chair, Rutgers University, New York, New York

Friday, November 19, 2021 9:00 AM – 5:00 PM CDT

Join fellow drawing enthusiasts for on-location sketching in Nashville. Focus will be on using watercolor as a tool for field sketching in combination with multi-media and freestyle journaling, including collage. Bring materials and comfortable walking shoes; handmade watercolor sketchbooks provided. Participants' sketchbooks will be displayed at ASLA Central.

Image credit: Livable Cities Studio, Inc.  
Addressing Resiliency in Denver with Equity and Inclusion at the Forefront
with Happy Haynes, Executive Director, Parks and Recreation, City and County of Denver
Friday, November 19, 2021
3:45 PM – 5:00 PM
CDT 1.25 PDH, LA CES/HSW, AIA/non-HSW, AICP, FL 
In 2015, Denver undertook a complex stormwater project to solve a historic drainage problem and flooding in seven low income and minority-occupied neighborhoods. The unprecedented effort resulted in a new form of infrastructure aimed at equity and putting the community's needs first to create a celebrated series of open spaces.
Learning outcomes:
Understand the importance of local government leadership, the value of partnerships, and the necessary community-first approach to achieve transparent decision-making.
Understand the leadership role a landscape architect can play on a large, complex public project alongside executive leadership and engineers where integrated design strategies are required to address multiple challenges.
Discover the importance of co-creating public engagement methods with stakeholders in order to deliver equitable outcomes.
Examine innovative delivery methods on an expedited timeline to deliver high quality parks, public spaces and resiliency strategies.
And check out the latest stop on Tom's running journey to Nashville:

Images in the video: ASLA Ohio Chapter 2020 Design Honor Award, the Collaborative "The Andersons, Corporate Headquarters" 
Stop 4: Maumee, Ohio
The Andersons Corporate Headquarters by The Collaborative, an architecture, design, and planning firm.
This project balances the needs for the company's headquarters in keeping with their desire to promote environmental health. By returning 18.4 acres of the former golf course site to naturalized fields and bio retention basins, the project created ecological habitat while simultaneously offering amenities for employees and reducing site maintenance. 
It is a great example of how landscape architecture can balance human needs while simultaneously helping mitigate climate change, an important topic discussed in the seven learning tracks during the 2021 ASLA Conference. 
Search our agenda by continuing education or rating system-specific credit to see all classes and qualifying PDHs.
Health and Safety: ASLA will follow protocols mandated for large gatherings by the Center for Disease Control and Prevention (CDC), the Music City Center, area hotels, and Davidson County (Nashville) related to current pandemic conditions, including wearing masks indoors and social distancing when required.
The Music City Center HVAC and air quality systems were developed as part of their sustainability efforts and LEED Gold certification. The Center places a high priority on indoor air quality. During the construction of the facility, they chose to use low VOC paints and MERV 13 air filters (comparable to healthcare facilities) for all air handlers.  Additionally, outdoor air exchange rates is maximized through manual operation controls.