DREAM BIG with Design Is Coming to Minneapolis
9/17/2023Leave a Comment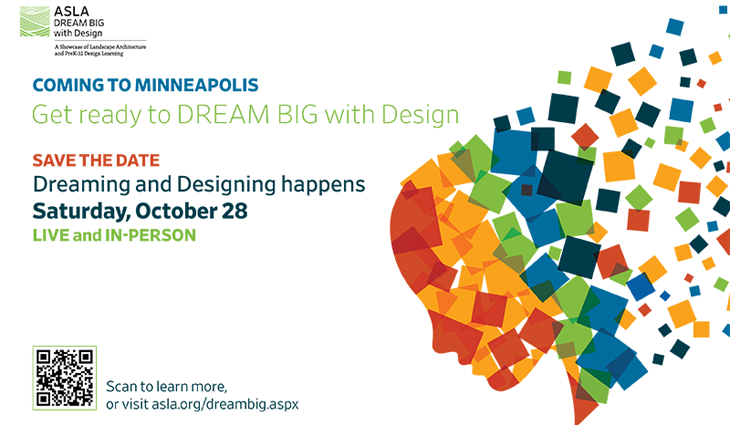 DREAM BIG with Design immerses PreK-12 students in design-centered strategies that address some of the most critical issues of our time — green infrastructure, equity in design, climate action, transportation for all, water and stormwater, and more.
ASLA is thrilled to announce that DREAM BIG with Design is coming to Minneapolis!
On Saturday, October 28, 9am-12pm, VIP guests from Maxfield Elementary School will get to sketch their way through the DREAM BIG LIVE ZONE with presenters from the DREAM BIG with Design 2021 and 2022 virtual conferences.

Located in the Exhibit Hall, the DREAM BIG LIVE ZONE will be dedicated to our special guests, but we encourage conference attendees to stop by and see how our members are introducing landscape architecture to the next generation, in-person.
Featured presenters include:
Walt Disney Imagineer, Jennifer Mok, ASLA
LEGOLAND, Florida designer, Todd McCurdy, FASLA
Chip Sullivan, FASLA
Earthscape
About Past DREAM BIG with Design Virtual Conferences
In 2021, ASLA launched its inaugural PreK-12 Summit which included two full days of exciting virtual sessions led by landscape architects from Legoland Florida, Walt Disney Imagineering, the Boy Scouts, the Environmental Protection Agency, and more.

Program highlights included Story Time (presented in Spanish, Mandarin, and American Sign Language), an educator session on Next Generation Science Standards from the Chief Learning Officer at the National Science Teachers Association, and a surprise appearance from award-winning children's musician, Billy Jonas who led our PreK-grade 5 attendees into their conference break with his hit song L-M-N-O-P Break.
Building on the success of DREAM BIG 2021, ASLA kicked off its second PreK-12 Summit with live, interactive sessions that explored the future of landscape architecture with pollinator design, bee conservation, drone technology, and theme park design 2.0.

Special guests included noted landscape architects, scientist/entomologist Dr. Samuel Ramsey, award-winning World Wildlife Fund photographer Clay Bolt, and Chip Sullivan, FASLA. In 2022, DREAM BIG with Design also launched the surprise release of ASLA's new song The Big Idea! composed by Billy Jonas.
If you missed ASLA's Inaugural PreK-12 Summit, DREAM BIG with Design, access the free recordings at anytime:
ASLA Career Discovery programming relies on our sponsors.
Please consider making a donation supporting our future landscape architects! Several sponsor opportunities are available.
Thank you to our DREAM BIG PRESENTING SPONSOR:

Thomas J Nieman, PhD, RLA, FASLA, Professor Emeritus, University of Kentucky.
GENERAL SPONSORS:
SUPPORTING SPONSORS:
Boston Agricultural College
BrightView
Confluence
Tom Mroz, FASLA
John Troy
Learn more or contact Daniel Martin, Hon. ASLA, Director of Development and Strategic Partnerships.
Please direct questions about DREAM BIG LIVE to Lisa J. Jennings, Senior Manager, Career Discovery and Diversity.