Offset Your Carbon Emissions at the ASLA 2023 Conference
9/17/2023Leave a Comment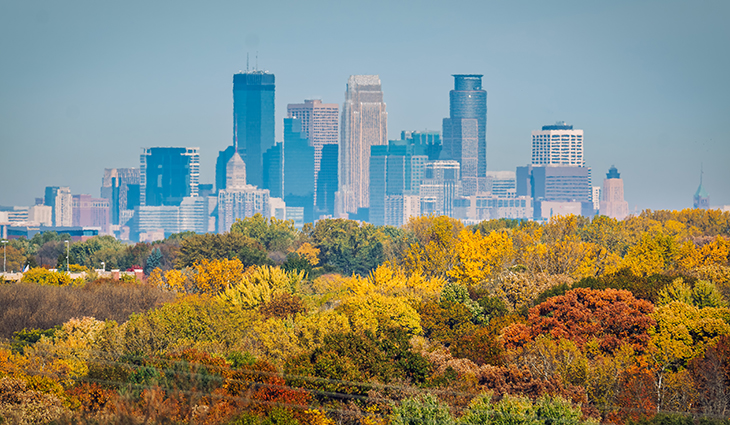 Attending or exhibiting at the ASLA 2023 Conference in Minneapolis?
Please consider offsetting your carbon emissions through ASLA partner Green Minneapolis and grow the tree canopy of Minneapolis and the Twin Cities metro area. Help ASLA reach its goal of offsetting 1,500 tons of emissions this year.
Green Minneapolis collaborated with the Minneapolis Park and Recreation Board to complete the first urban tree carbon offset project in Minnesota. The project is part of the Twin Cities Climate Resiliency Initiative, a public private partnership that will significantly expand the urban tree canopy across Minneapolis and the seven county Twin Cities metro area.
Through City Forest Credits, a national nonprofit carbon registry, the urban tree carbon offset project has achieved third-party verification for its carbon credits. The project includes 23,755 city trees planted by the Minneapolis Park and Recreation Board from 2019 to 2021. Over its 25-year duration, the project is estimated to store 48,865 metric tons of carbon and will provide quantified co-benefits related to rainfall interception, air quality, and energy savings.
According to Green Minneapolis offset funds collected by ASLA and its members will "support a 20-year vision to increase the metro area's tree canopy through planting and maintaining five million trees on public and private lands, with a focus on addressing environmental inequities in the most disadvantaged communities."
The lead sponsor of the ASLA 2023 Conference Carbon Offset Program is Bartlett Tree Experts.
Offset your emissions through the registration process or directly via this form.
And learn about the results of ASLA's first sustainable event impact assessment and the many actions ASLA is taking to create a more sustainable conference, including:
Creating climate change and biodiversity educational tracks at its conference
Implementing a range of measures related to food, energy, water, and waste to reduce impacts
Offsetting 1,500 tons of its carbon dioxide emissions
Launching a new sustainability commitment for EXPO exhibitors
Providing free registrations for invited Twin Cities-based climate equity and justice leaders to attend the conference
Providing free registrations for invited Twin Cities-based climate youth leaders (high school students) to attend the conference
Developing a strategy to reduce transportation emissions for attendees and exhibitors traveling to and from the conference and while traveling in the host city.