Olmsted 200 Inspires Lasting Efforts
5/2/2023Leave a Comment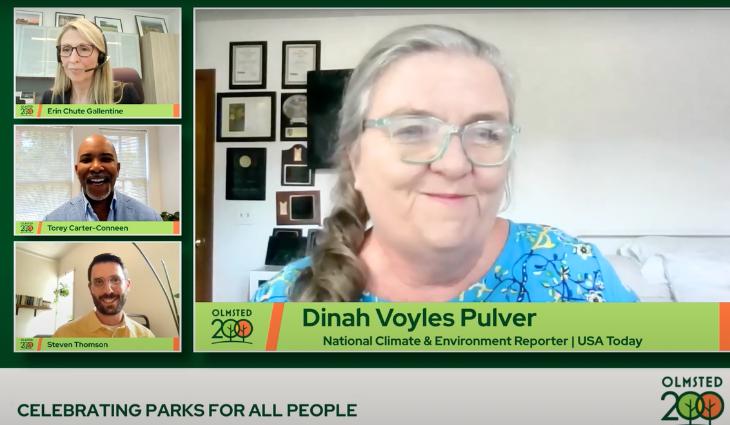 Last week, the Olmsted Network celebrated Frederick Law Olmsted's 201st birthday with two virtual events, including a climate-themed webinar featuring ASLA CEO Torey Carter-Conneen. The birthday week marked the official end of Olmsted 200.

Olmsted Parks & Climate Change
Conversation with Olmsted: Olmsted Parks & Climate Change explored the impact of climate change on Olmsted parks and places and the ways in which well-designed landscapes can address the climate crisis. Carter-Conneen had the opportunity to discuss the organization's history of climate advocacy and recent Climate Action Plan.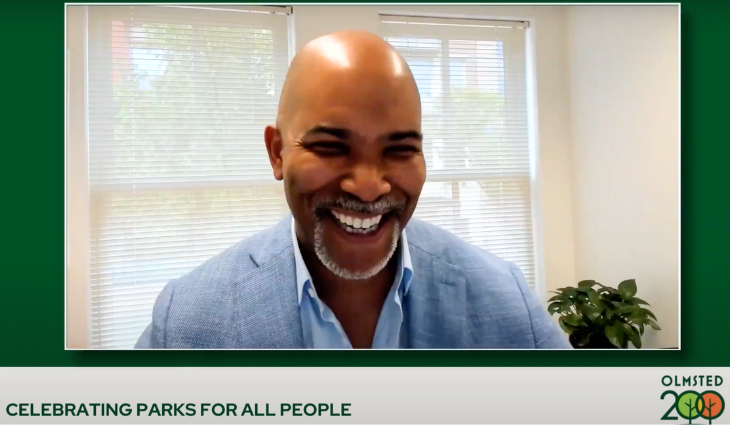 ASLA CEO Torey Carter-Conneen addresses ASLA Climate Action Plan in recent Olmsted 200 webinar.
"As a profession, we should do more. We should stand with both feet fully in our role of taking climate action and reducing the effects of carbon," he said. "[The Climate Action Plan] has three pillars— equity, advocacy, and practice. It doesn't just make ambitious commitments. It helps our members have the tools and resources to incorporate climate-positive design in their projects."
Carter-Conneen was joined by USA Today National Climate Reporter Dinah Voyles Pulver, Central Park Conservancy Institute for Urban Parks Director of Thought Leadership Steven Thomson and Brookline Public Works Commissioner Erin Chute Gallentine.
The program was recorded and can be accessed here:
https://youtu.be/Sw6Kh_xTcAM
Designing America
The second webinar reflected on Frederick Law Olmsted: Designing America, a film released in 2014 about the enduring legacy of Frederick Law Olmsted. The discussion featured the new head of Prospect Park Alliance Morgan Monaco, Olmsted biographer Justin Martin and more.
Watch Frederick Law Olmsted: Designing America by clicking here, and watch the final discussion of Olmsted 200 by clicking here.
What's in store for 2023 and beyond?
The bicentennial has ended, but the real work now begins! Olmsted landscapes are faced with many threats, and it is up to all of us to step up and protect these irreplaceable places.
The Olmsted Network looks forward to building on the excitement of Olmsted 200 and the renewed interest in Olmsted landscapes. We will continue focusing on advocacy, education and stewardship to promote thriving communities, mental and physical wellbeing and ecological health.
In June, Olmsted Network will debut a new website at www.olmsted.org, a new Olmsted Insider newsletter and updated social channels. Until then, we urge you to keep checking our Linktree and www.olmsted200.org for events, blogs and more.

Finally, we want to thank YOU for helping us #CelebrateOlmsted! This campaign wouldn't have been possible without your support, and we look forward to continuing our partnership with ASLA and its great chapters.