Upcoming PPN Webinars
5/2/2023Leave a Comment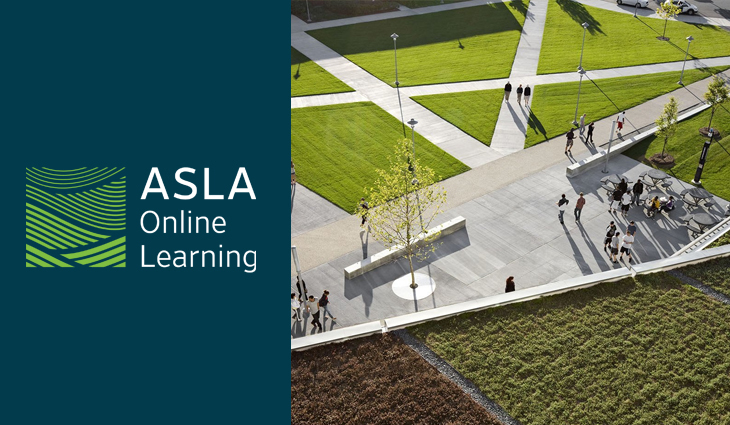 Join us for these live virtual events hosted by the Children's Outdoor Environments and Campus Planning & Design Professional Practice Networks (PPNs):

Zoom Book Club: Schools That Heal: Design with Mental Health in Mind
Tuesday, May 9, 2023
3:00 p.m. ET/12:00 p.m. PT

Hosted by ASLA's Children's Outdoor Environments PPN

Free to attend; all ASLA members welcome!
The pandemic highlighted the impact of places on children's mental health when schools were closed for extended periods of time. Claire Latané, FASLA, SITES AP, professor of landscape architecture at California State Polytechnic University, Pomona, opens up for us the magnitude of the impact of school environments on children's mental health with her timely publication of Schools That Heal: Design with Mental Health in Mind in 2021 through Island Press. In this multi-faceted book, she moves through theory to evidence-based tactical recommendations in a tightly written text of just over 200 pages. While recognizing the gravity of the issues at hand, she brings years of experience with witnessing change firsthand through school transformation and the positive impacts to her students through her work as a designer.

Join us for a wide-ranging conversation in which Lisa Howard, ASLA, co-founder of Bay Tree Design, interviews Claire Latané on the means to leverage schools' potential as spaces of healing and hope in the midst of an ongoing mental health crisis. We will explore inspiring case studies and discuss what can be done about key issues at hand. Bring your questions and curiosity on this influential part of landscape architecture practice.

Register Now

---
Zoom Coffee Chat: Engaging Your User Groups on Campus
Friday, May 12, 2023
12:00 p.m. ET/9:00 a.m. PT

Hosted by ASLA's Campus Planning & Design PPN

For Campus Planning & Design PPN members only—PPN members will receive the registration link via email.

Join Campus Planning & Design PPN leaders and fellow members as we share recent projects like Vanderbilt University's Fleming Yard and Campus Center Pavilion and invite discussion and examples from other institutions on how you have welcomed students, staff, and/or faculty in the design process.


---
Empowerment in the Playground: Planning for Inclusive Interaction and Barrier Elimination for Children with Down Syndrome - 1.0 PDH (LA CES/HSW)
Wednesday, May 24, 2023
3:00 p.m. ET/12:00 p.m. PT

Hosted by ASLA's Children's Outdoor Environments PPN

Free for ASLA members! $50 for non-members.

This presentation, based on Master of Landscape Architecture thesis research, was inspired by a playful childlike imagination as well as the desire to provide enjoyment for children of all abilities in outdoor recreational settings. The notion of free and fearless fun was created to embody the experience of children playing in a space without judgment, fear, or prejudice from other children. To get a nuanced perspective on how to create inclusion, this project included interviews with designers, landscape architects, occupational therapists, and playground specialists. Along with these interviews, surveys and conversations with parents were also conducted to obtain their perspectives and concerns. The presentation will share inclusion solutions based on a literature review and the analysis of New Jersey playgrounds as case studies. As a result of these studies of past and present playgrounds through the eyes of an extensive group of people, the theory that playgrounds can benefit children with Down Syndrome both physically and psychologically through free and fearless design solutions was demonstrated.

Speaker:
Jolean London, Landscape Designer
Register Now
---
Please note: only the May 24 webinar above offers LA CES-approved professional development hours. To explore all upcoming ASLA webinars and past presentations, please visit asla.org/onlinelearning. You may access nearly 200 on-demand webinars available for professional development via learn.asla.org, including the Free PDH of the Month webinar, for ASLA members only. Through May 31, we are featuring Water Conservation in Landscape Irrigation - 1.0 PDH (LA CES/HSW) as this month's Free PDH.