We Would Like to Celebrate Our Class of 2023!
4/4/2023Leave a Comment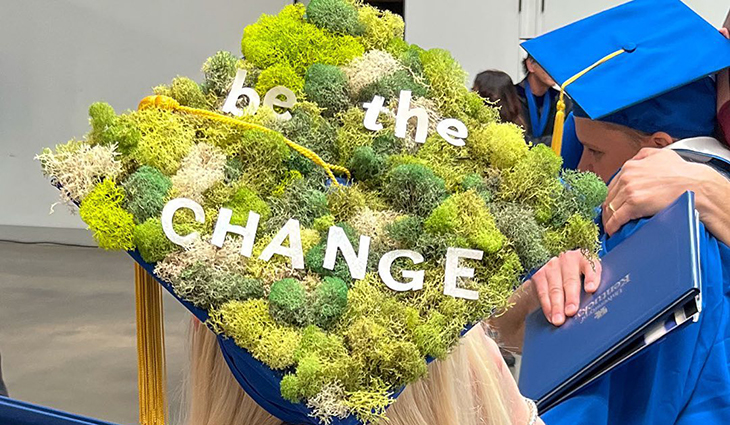 Image of graduating student: photo credit: UK Landscape Architecture @uky_landscapearchitecture
Congratulations to the graduating class on earning your undergraduate/graduate degree in 2023. We know that you have invested a considerable amount of time and resources, and for this we want to commend you.

To celebrate your accomplishment we mailed all 2023 graduates an invitation  to the ASLA virtual graduation ceremony, with the official ASLA graduation cord, sponsored by Confluence. We hope that you will be able to wear it during the virtual commencement event with Emily O'Mahoney, FASLA, President and Torey Carter-Conneen, ASLA CEO on April 17, at 2:00 PM EST (please contact Angelika Ruehr aruehr@asla.org if you have not received it).

As you transition from being a student to a professional landscape architect, we want to make sure you continue to enjoy the ASLA membership benefits, and then some. First, as you embark on your journey to become a licensed architect, please know that as an ASLA associate member you will receive a variety of discounts on the Landscape Architect Registration Examination (L.A.R.E.) prep courses. The L.A.R.E. is unlike any test you have ever taken. Research shows that candidates who take sections 1 and 2 closer to graduation are more successful than those who wait!

Second, as an Associate member you will also receive a discount to attend the ASLA  2023 Conference on Landscape Architecture in Minneapolis.
As a member of the next generation of landscape architects, you should also know about two other ASLA membership aspects. First, if you will be joining a firm, we strongly encourage you to inquire about having your firm cover your ASLA membership fee. Many large and small firms provide this benefit to their employees. Second, we know from members' testimonials that they can enhance their ASLA membership experience by engaging in the free ASLA Mentorship program. You can choose a mentor based on your needs (specialty, location, gender etc.)

We hope you'll continue your ASLA membership journey and join us as an associate member.  When you join ASLA you belong to and elevate the profession with a long and proud legacy.