Affairs of the State: Your Chapter's Action on Advocacy
2/21/2023Leave a Comment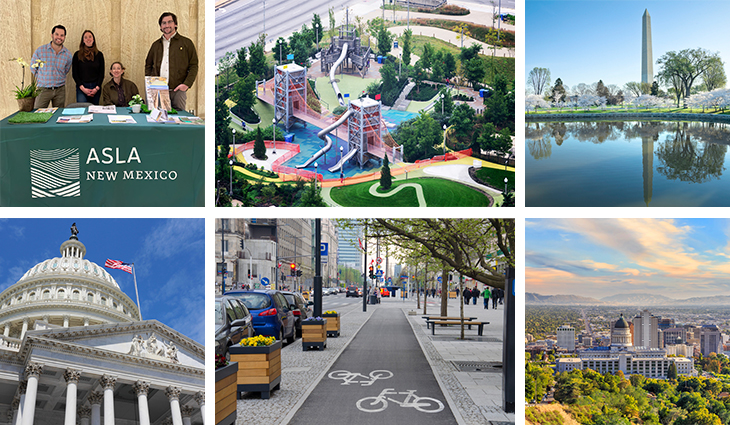 ASLA chapters are actively defending your license to practice and promoting the profession in statehouses across the country. Together, chapter leadership and the ASLA State Government Affairs team continually monitor legislation specific to the landscape architecture profession. Below are a few stories of how chapters are taking action.

Just before the holidays, the South Carolina chapter was alerted to a licensure deregulation threat in the SC House of Representatives. Chapter leadership met with House policymakers and shared their concerns and opposition to the bill. Ultimately, the bill is highly likely to die in committee within the next several weeks. Additionally, the chapter is currently outlining a State Advocacy Day initiative in March, to continue their advocacy efforts to educate policy makers on the importance of licensure.

In January at the convening of the Virginia General Session, a bill was introduced to deregulate the landscape architecture profession. This came as a surprise, as in 2020 the Department of Professional and Occupational Regulation found that the "Licensure of landscape architects appears justified as the least-restrictive degree of regulation necessary to protect the public." Through swift advocacy and lobbying efforts by the Virginia chapter, the Governor's Administration agreed to amend the bill to exclude landscape architecture. However, ultimately the bill died in committee.

This year, the Potomac chapter is working to remove the 6% landscape architecture services tax in Washington, D.C.; no other licensed professional design services are taxed in the District. They have written a draft bill and are working with a Councilmember to sponsor the bill and bring it to a vote of the Council of the District of Columbia.

The New Mexico chapter hosted their Advocacy Day on February 13 in Santa Fe. Members met with policymakers to discuss state and Federal funds being allocated to outdoor programs and projects, including rebuilding areas devastated by wildfires, and the significant role landscape architects played in leading these efforts.

Earlier this month, the iAdvocate Network was activated in response to a Utah bill to eliminate the landscape architecture licensing board. The Utah Chapter leadership developed arguments in defense of retaining the state's licensing board and to consider possible alternative solutions. In response to the chapter's advocacy efforts, the bill was amended to allow additional time to study the validity of having a landscape architecture licensing board. 

The Nebraska-Dakotas chapter is championing legislation to add landscape architecture seats to the North Dakota Architecture and Landscape Architecture Board. While negotiations over final language are on-going, the legislation, House Bill 1465, continues to move through the legislative process.

As of February 10, ASLA is tracking:
Each bill represents an opportunity for landscape architects to advocate for the profession with state policymakers. Get involved by signing up for iAdvocate and participate in and/or volunteer to help with your State Advocacy Day.