Meet the Presidential Candidates - Kona Gray, FASLA, PLA
2/22/2023Leave a Comment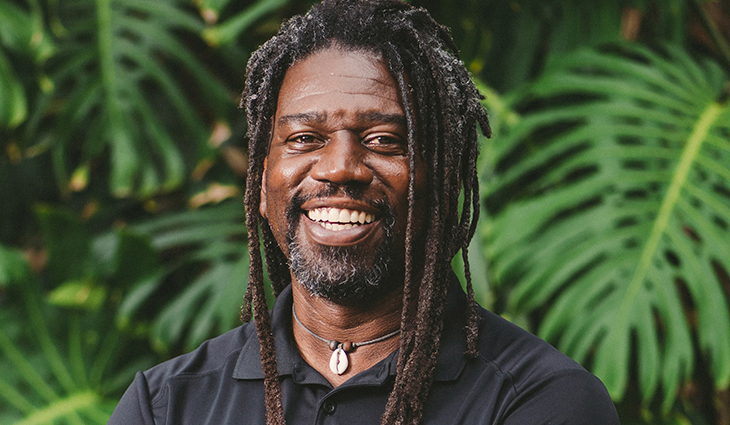 Biography
Over 29 years of experience in 30+ countries, Kona A. Gray, FASLA, PLA has designed memorable places and unselfishly served the profession through volunteer efforts with care. Kona's civic responsibility is evident in his years of commitment to the Landscape Architecture community. He envisions welcoming environments that promote community and vitality in diverse neighborhoods. Kona's ethos is influenced by travel, environmental empathy and exposure to many cultures while growing up in Liberia, West Africa and Decatur, Georgia. As a Landscape Architect, he is committed to enhancing awareness of the discipline through public and industry influence.

Today, Kona serves on the Landscape Architecture Accreditation Board as the ASLA Representative. He is an ASLA Fellow, 2022 ASLA Presidents' Medal recipient, 2018 ASLA Vice President Professional Practice and 2016 President of the Landscape Architecture Foundation. He continues to serve on ASLA Florida, ASLA National, CLARB, HD, LAAB and LAF committees as well as design juries. Kona also serves on advisory boards for the ULI SE Florida/Caribbean District Council, University of Miami School of Architecture MRED+U and NSU School of Business MSRED.

A well-spoken ambassador, Kona has contributed to more than two decades of outreach heightening awareness for the profession through sharing global projects, individual experiences, and external inspirations. He's enthusiastic about growing the profession and committed to DEI initiatives through mentorship, internships, and scholarships. Kona regularly gives back to academia via lectures, design reviews, program visits, keynotes addresses, and LABash conferences. Kona was honored to serve as the 2021 LSU Bickham Chair and deliver the 2021 UGA – SE+D Spring Commencement.

In private practice at EDSA, his portfolio ranges in multiple scales with emphasis on communities, parks, hospitality, urban public realms, mixed-use developments, healthcare, museums, aquariums, and campus spaces. Currently, Kona co-leads design and business development as a firm resource. He is a registered Landscape Architect in four States and holds a Bachelor of Landscape Architecture from the University of Georgia and a Commercial Real Estate Certificate from Cornell University. Kona's award-winning projects are passionately inspired towards creative design solutions that solve environmental issues, improve quality of life, and celebrate humanity through Landscape Architecture.

Goals and Direction Statement
"Each and every one of you has the power, the will and the capacity to make a difference in the world in which you live."
-Harry Belafonte
ASLA is well positioned to create positive experiences for the everyone through our vision to promote "Healthy, Beautiful and Resilient Places for All." Our 2022-2024 Strategic Plan has set the roadmap to meet our global goals. Now, we can leverage efforts to preserve the environment with the 2022 Climate Action Plan and grow the profession through the 2020 Racial Equity Plan meeting aspirations that truly help Landscape Architects.

Together we can Celebrate Practice, Elevate Design, and Strengthen Partnerships.

Practice: Focus on bringing us all together towards a greater purpose to celebrate Community and Connection. All forms of practice including academic, non-profit, private, public, and research play important roles in our ecosystem. The discipline is healthier because of our diversity. The broad spectrum of practice is daunting. However, the glue that binds us together is Landscape Architecture. I am committed to improving member experiences, mentoring students, and engaging chapters through strategic initiatives.

Design: Elevate the fundamentals of Landscape Architecture through Innovation and Scale. By embracing the basics of landscape architecture related to natural systems and humanities we can set the foundation for exploration to solve future challenges. Let's get back to the basics of sound discovery and community engagement, analysis and planning, grading and planting, plus detailing and construction to build the skills that preserve communities. I am committed to promoting K-12 design curriculum, supporting higher education, and presenting ASLA as a "full-serviced information hub."

Partnerships: Promote the discipline and profession to strengthen our Voice and increase awareness of Landscape Architecture. Over my years in the profession, I have learned from ASLA, CELA, CLARB, IFLA, LAAB, LAF, and TCLF that our collective is brilliant. We have the agency to come together to mutually respect our differences and celebrate our similarities to move us ALL forward. In partnership, ASLA and our allies can Convene the discipline. I am committed to Increasing awareness by raising our profile and serving as a spokesperson to promote Landscape Architecture.