Milestones & New Members
2/22/2023Leave a Comment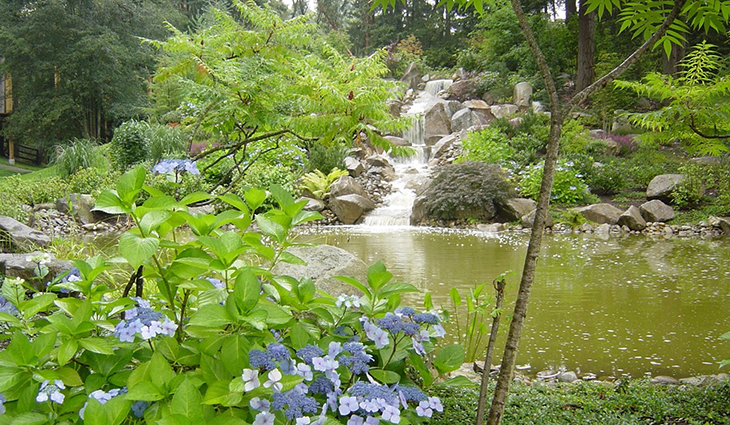 Misty Isle Farms- designed water feature and gardens, image by Marty A. Lyon. Read more about Marty below.
50 YEARS+
Michigan Chapter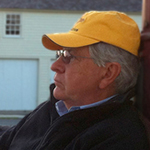 Frank C. Clements, FASLA 
Where are you from and how long have you been a landscape Architect? I was born and raised in Lansing, Michigan. In my early childhood I lived less than a mile from Michigan State University. I knew I wanted to attend MSU, but had no idea I would eventually study there in Landscape Architecture. I have considered myself a landscape architect for 56 years since I graduated with my Masters in Landscape Architecture from the University of Illinois, Champaign/Urbana in 1967. How did you begin your career journey in landscape architecture? During my summers between semesters at a junior college, I worked at a friend's Lawn and Landscape Company. The supervisor was a student at Michigan State University studying Landscape Architecture. He took took me to the MSU Department of Landscape Architecture for a tour, showed me student work, and explained what landscape architects do. The variety of projects I saw were intriguing and the skills it required matched my interests. The next semester I enrolled in landscape architecture at MSU, and graduated in 1965. What do you think is the most important issue facing landscape architects today? This may not be the most important issue but it has always been difficult to describe the essence of our profession to others because our profession is so diverse in regards to what we do. As such, the general public has a difficult time in understanding what we do and what we can do. Landscape Architecture Magazine does a great job of covering our work and relating to our profession, but I would like it to try to engage the general public in understanding our profession. The public's understanding of the scope and breath of our profession today needs some rebranding. Other than that, I don't see many issues just opportunities. What have you gained by being a member of ASLA for 51 years? My main touchstones to ASLA have been the ASLA Conventions, Landscape Architecture Magazine, and my involvement in the local Chapters of ASLA, both as an officer and a chapter member. Through these three areas I have benefited both as a practitioner and as a business owner. For example, as a practitioner, the ASLA Awards program has driven me to become a better designer and planner by looking at and learning from the examples of projects of other leaders in our profession. By attending the ASLA conventions and their educational sessions, I always gained new knowledge and inspiration from the presentations and the speakers. Chapter educational programs and their awards programs served to help promote my business as well as honor my clients by winning awards for their projects. Last, without the Chapter, it would be impossible to attain Licensure registration which helps put us on an even plane and be competitive with sister professions such as architects and, engineers. What would you share with others as a reason for belonging to ASLA as a member? First, many of the reasons for belonging are listed in the above question, which without ASLA, none would be attainable. Second, it's hard to imagine how individually one could do all the things ASLA does; providing services to support us in terms of public relations, continuing education and protecting and, promoting our brand. What would you share with those new to the profession of landscape architecture? After a formal education in landscape architecture, there is still much to learn about the art and science of landscape architecture, as well as how to matriculate through the stages of your career in order to become more proficient in the practice of landscape architecture. There is still much to learn throughout your career. I like to compare our continuing education to an apprenticeship whereby you go through steps learning various skills from the masters, becoming proficient at them and moving on until you are a more proficient well rounded professional. I have noticed many younger professionals believe there are shortcuts to this process or they attempt to rely on new technologies only to find their advancement is hindered or stalled because they didn't invest the time to learn the necessary skills. Becoming a landscape Architect is a journey, one should take the time to learn it and to enjoy it. What is your favorite project in your career and why? The Jackson Park Pavilion in Chicago, Illinois is my favorite project for several reasons. Originally built in 1919, the Jackson Park Pavilion on Lake Michigan at the 63rd Street Beach on the Southside of Chicago, had seen years of neglect and was closed. The City of Chicago had also been criticized for neglecting the south side residents and for underproviding services and new parks. As such, extensive public participation with the Jackson Park Advisory Council, a local resident based organization, became critical to the design process involving the neighborhood residents. After presenting multiple design concepts of interactive water features, the Council chose the concept that expressed what they said, was "the spirt of unity that existed in the neighborhood" because of its circular design. One of the first interactive water features in the Chicago Park system, it was highly responsive to the needs of the neighborhood and has become highly popular with children and adults. Comprised of three concentric rings in which the water jets are located it is programmed for several water events creating rooms of water, moving jets of water, and other surprises to its users. The project is a favorite of mine because of the extensive public participation process which drove the design, the projects positive impact, and acceptance by the surrounding underserved neighborhoods, and the popularity of the project by young and old with all having a fun experience. The Jackson Park Pavilion won an Illinois Chapter ASLA Honor Award in 2000 and an ASLA National Merit Award in 2001. What in your view is the most important thing that landscape architects provide? The two principles that are basic to our code of ethics when addressing this question; that we are dedicated to the protecting the public's health, safety, and welfare, and we recognize and protect the land and its resources. Is there anything else you would like to share to commemorate your 51 years with ASLA? Landscape Architecture is a very collaborative, collegial profession. As such, I have had great joy in working with my fellow landscape architects, and collaborative professions, such as, ecologists, engineers, architects, artists, graphic designers and horticulturalist. I learned a lot from them and they made me and my projects better. The same for the many clients I have met and worked for; Mayors, CEO's of Fortune 500 Companies, Park Commissions, Library Boards, Major Baseball Owners, the richest man in the world, Construction Companies, and Non- Profits. And last, all the private citizens who came to charrettes or community visioning sessions who shared their visions and goals making their project better because of their contributions and involvement. Many of these wonderful people that added to my knowledge and experience as a landscape architect stay in touch and are still friends. It has been a wonderful fulfilling experience being a Landscape Architect for 51 years, and an honor to be chosen as an ASLA Fellow in 1996.
---
40 YEARS+
California Northern Chapter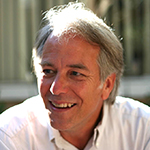 Patrick Tormay Miller, FASLA
Where are you from and how long have you been a Landscape Architect? I grew up in Montgomery County, Maryland. I moved to Berkeley, California in 1971 to attend graduate school, fell in love with a Mediterranean climate and the lifestyle and creativity it inspires, and never looked back. I have been a licensed landscape architect for 43 years. How did you begin your career journey in Landscape Architecture? Where I grew up I lived on 1 acre of essentially field grass and it was my job at one time to mow that grass every week. Believe it or not, I truly think my journey in landscape architecture began by designing and cutting mowing patterns. But the journey to where I am today was really kick-started in a direct way when I failed out of one college majoring in engineering (my father, mother, and two older brothers were all engineers or mathematicians) and transferred to the SUNY ESF landscape architecture program. My trajectory and development as a landscape architect was influenced by a number of individuals and varied working experiences during and shortly after college: as an undergraduate student under the tutelage of George Curry, Brad Sears, and Bob Ryman; as a site planner for Spencer E. Sanders a landscape architect designing pubic spaces and housing complexes in and around Washington DC; as a landscape architect aide for David Fulton on the Mark Twain National Forest in Springfield Missouri conducting visual analyses and constructing campgrounds; as an wide-eyed adventurer living on the Havasupai Indian Reservation in the Grand Canyon to understand the idea of "culture" thanks to a National Foundation for the Arts Travelling Scholarship; as a researcher working via a Fellowship grant for Garry Robbinette and Al Lagasse at the fledgling Landscape Architecture Foundation; and finally with Garrett Eckbo who was one of my thesis advisors at Berkeley and my first full-time employer. Garrett . . . Need I say more? Oh, yes I do. My wife and I quit our jobs and travelled for two years . . . six months of which were in Europe on bicycles traversing over 5,000 miles. That life-affirming experience influenced my decision to focus a professional career on public parks, open space areas, and trails. What do you think is the most important issue facing Landscape Architects today? War and designer egos. I do not think landscape architects should be part of the military-industrial complex. And I believe the most successful landscapes are ones that evolve where success is shared by many, not commandeered by one individual. Work backwards from those and you will find planning and designing to account for: climate change and all its extreme implications; nature deficit disorder; wildlife compatibility, habitat segmentation, and species diversity; and social justice. All important issues to face head on. What have you gained by being a member of ASLA for 44 years? A satisfaction of being a part of and involved with an organization that, in my opinion, has really grown up in my lifetime in a way that has expanded horizons and is thriving. I was the Northern California Chapter President when we held the 1986 National Annual Meeting in San Francisco. That was, at the time, a watershed moment for the ASLA of significantly increased participation and attendance records. What I learned was that landscape architects (with very – really very - few exceptions) are absolutely nice people willing to give and share their time and expertise when asked and when the reasoning is presented logically. What would you share with others as a reason for belonging to ASLA as a member? The strength of community. What would you share with those new to the profession of landscape architecture? If you look around, there are many professions and individual titles that claim to, and indeed do, plan and design outdoor spaces. Architects, civil engineers, ecologists, or simply "designers" to name a few. However there is one singular perspective that separates landscape architects from all the others. That is understanding of soil and plants and how they can be used to create and enhance: human experiences that impact all the human senses; wildlife habitat; and the functional management of natural processes like microclimate, wind and dust control, storm water runoff, and water quality control to name a few examples. With that said, the idea of a "profession" of landscape architecture is a somewhat vague concept. Being called a landscape architect it is really not necessarily defining in any way. The question could be put "what type of doctor of the landscape do you wish to be"? Designing singular gardens, corporate, or public urban spaces that are jewels? Planning and designing public infrastructure (streets, parks, schools, housing, trails, etc.)? Planning and designing open space and natural areas? Planning and managing our public lands that certainly involve developed recreation areas analysis of visual integrity? Planning cities and developments in concert with nature? Conducting research about the landscape and educating future landscape architects? The list goes on. Pick one. Build a reputation. If you are brand new to the profession and searching where you want to go, the ASLA is sort of like a library of resources for who we are and what we do. What is your favorite project in your career and why? I am very fortunate as there are too many favorites. My definition of "favorite" is first a project that over time enhances the general public's connection with the outdoors and landscape resources through experience. My career has focused on planning and designing public parks, open space areas, and trails. What first comes to mind is master planning Hidden Villa where for over fifty years sustainability and social justice have been institutional goals. Favorite also means I had a significant role in taking a project that did not exist at one point and creating a new place. The San Joaquin River Parkway and the City of San Mateo Shoreline Parks are such examples. Or starting a trend that subtly expands in popular culture and acceptance (and indeed the profession) like the Santa Clara County Trails Master Plan that was the first comprehensive trails plan in the United States to expand the definition of trails as more than recreation features to include transportation and health benefits. Or influencing and guiding how other professionals work such as authoring the San Francisco Bay Trail Design Guidelines and Toolkit for the longest urban trail system in the country. Or helping two cultures come together in giving definition to the Ohlone- Portolá Heritage Trail that recognizes the living heritage of the local Ramaytush Ohlone and the role the Portolá Expedition played in charting the future development of California. Search the web on any the highlighted above for more information. What in your view is the most important thing that landscape architects provide? Creativity in solving problems and creating experiences. Visioning what is not there. Is there anything else you would like to share to commemorate your 44 years with ASLA? I love what I do so it is not over. The journey continues.
 Idaho/Montana Chapter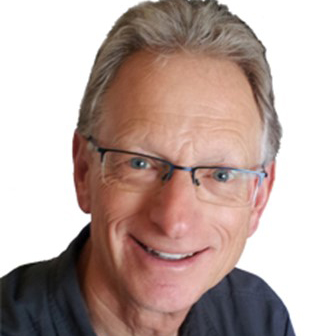 Marty A. Lyon, ASLA 
Where are you from and how long have you been a landscape architect? I was born in Tacoma, WA and opened my office in Tacoma, January 1, 1980. In 2001 I moved to Sun Valley, ID where I have been working from my home studio since. I have been registered as a professional Landscape Architect since 1974. At one time, I was licensed in WA, ID and OR. How did you begin your career journey in Landscape architecture? When I was 8 years old, my family moved into our new home-an architectural stunner and AIA award winner. In the next few years, I was introduced to the work of Frank Lloyd Wright while at the same time the landscape was being installed at our new home. The design of both the home and landscape is what we refer to today as mid-century modern. The lot, on which the house was built, sloped down towards the cliffs of the Puget Sound, overlooking the Tacoma Narrows bridge. The landscape included a formal, yet subtle water feature as one approaches the front entry, extensive outdoor entertainment areas, as well as a swimming pool, with views of the Puget Sound and Narrows Bridge. The landscape architects were Chaffee Zumwalt and Associates. In the following years our landscape was published in Sunset Magazine. By this point I was hooked. First with architecture and later landscape architecture. What an incredible marriage: architecture and landscape architecture. What do you think is the most important issue facing landscape architects today? Perhaps the most important to me, as well as the greatest opportunity for landscape architects, is dealing with uncontrolled growth, and the lack of understanding and respect for our natural environmental and ecological systems, both in the context of water. Communities do not reach their potential without leaders and decision makers addressing these and other critical issues. What have you gained by being a member of ASLA for 48 years? I am a lot older than when I started my career. Many landscape architects are too passive-we need to be sitting at the table from the beginning of a project and play an active role in our respective communities. When designing a new school, or a civic facility, commercial center, multifamily complex, and certainly parks and open spaces, why can we not take the lead role? After all, the placement, layout, identifying sensitive areas, circulation, facilitating workshops etc., landscape architects have a broader understanding of how the design program can best be situated on the site. Always, the architects, civil engineers and environmental consultants are at the table with us- hand in hand. What would you share with others as a reason for belonging to ASLA as a member? It is a personal choice. I see value in supporting our national chapter. ASLA provides resources which help to promote our profession and our personal growth. What would you share with those new to the profession of landscape architecture? Landscape architecture is not easy. Learn as much as possible and constantly ask questions. Gain knowledge in horticulture, construction, grading and drainage and overall site design, to name just a few of the many areas of design we must be proficient in. Interface with architects and engineers, particularly civil engineers and understand their work. We are constantly facilitating public workshops, making presentations to clients- private and municipal such as P&Z commissions, Homeowners Associations, and Hearing Examiners. Public speaking skills and the ability to articulate your thoughts are an important asset. Find a mentor, he/she could have lasting benefits to one's career. What is your favorite project in your career and why? Would you like to submit/share a picture of it? Misty Isle Farms, Vashon Island, WA. Transforming a 530-acre private estate into North America's greatest public garden, so was the goal of my client. A beautiful undulating forested property of second growth Doug fir, large open clearings which at one time were for horses and cattle. A unique and beautiful design project allowing me to use my skills and experiences designing custom bridges-using brick, stone, wood and even a 'rail road trestle' design concept. Other structures included a tea house as the center piece of a formal rose garden displaying 800 roses, a viewing structure to "barbeque a steak to enjoy with a glass of wine, while overlooking the extensive man made water feature and water falls." Misty Isle Farms even had a driving range, designed to USGA specifications. This was to be 25 years in the making. After traveling to several countries, visiting gardens, we had a vision of the potential. In ten years, we completed 3 phases, costing over $10,000,000. Due to a terrible accident, the vision was never completed. What in your view is the most important thing that landscape architects provide? During my career, I have worked and teamed with developers, architects, engineers, property owners and many municipalities. Landscape architects- we are uniquely qualified to see more clearly the opportunities and constraints of a project. There is no cookie cutter solution to our work. All sites are challenging, and our design approach and solutions should address the uniqueness of each site. Is there anything else you would like to share to commemorate your 48 years with ASLA? As I am writing this, I have on my studio desk, my 1996 ASLA LA coffee mug. It' funny, I think I use it because it helps me reflect on all the wonderful experiences and clients I have had. As mentioned, the design of Misty Isle Farms and my relationship with my client was extraordinary. Also, I had the pleasure of working with one of the Puget Sound's public school districts for 18 years! How is that even possible? (By listening, collaborating with the staff and accurate thoughtful design, without change orders and staying within budget). For several years I did work in Japan, and here in Sun valley, ID, I have had the pleasure of a 13-year relationship with a client developing his estate.
---
25 YEARS
Arizona Chapter
Jeff Berghoff, ASLA

Boston Chapter
Robert Uhlig, FASLA

California Northern Chapter
Douglas Findlay, FASLA

Connecticut Chapter
Bozena Kupinska, ASLA

Florida Chapter
Daniel A. Ashworth, Jr., ASLA
David E. White, ASLA

Georgia Chapter
Robert Bradley Jones, ASLA
Robert Bryant, ASLA
David H. West, ASLA

Illinois Chapter
Joseph D. Davito, ASLA
Kevin Marko, Affiliate ASLA

Indiana Chapter
David J. Hoffherr, ASLA

Minnesota Chapter
Meg Malde-Arnosti, ASLA

Oregon Chapter
Jeffrey S. Bond, ASLA

Pennsylvania/Delaware Chapter
Patrick A. West, ASLA

Potomac Chapter
Kenneth J. Vestal, ASLA

Texas Chapter
Jeffery M. Bargas, ASLA

15 YEARS
Arizona Chapter
Allison Colwell, ASLA

Colorado Chapter
James McCluskie, ASLA

Indiana Chapter
Marlowe Meneley, ASLA

New York Chapter
Kai-Tai Lin, ASLA

Potomac Chapter
Ching-Fang Chen, ASLA

Tennessee Chapter
Paul Darr, ASLA

10 YEARS
California Southern Chapter
Marc A. Yeber, ASLA

Connecticut Chapter
Natasha Andjelic, ASLA
Kathryn Herman, ASLA
Jason C. Williams, ASLA

Florida Chapter
Charlie Johnson, ASLA

Iowa Chapter
Garret J. Munch, ASLA

Michigan Chapter
Yongwoo Lee, ASLA

Pennsylvania/Delaware Chapter
Lauren Mandel, ASLA

San Diego Chapter
Tom Williams, ASLA

Wisconsin Chapter
Christine M. Kosiorek, ASLA

5 YEARS
California Northern Chapter
Lindsay E. Mugglestone, Affiliate ASLA

Connecticut Chapter
Tyson Triplett, ASLA

Florida Chapter
Garrett Noble, ASLA
Rituparna Simlai, ASLA

Illinois Chapter
Thomas C. Martin, ASLA

North Carolina Chapter
Andrew G. Filcik, ASLA

Pennsylvania/Delaware Chapter
Pearl May, ASLA

New Members
Boston
Carlos Eduardo Nieto, ASLA

California Northern
Brando Reece-Gomez, ASLA

California Southern
Kathryn Toth, Affiliate ASLA
Jingchen Zhao, ASLA

Connecticut
Christopher Wojick, ASLA

Florida
Ashley Rivera, Associate ASLA

Hawaii
Emma Davis, Associate ASLA
Hana Fulghum, Associate ASLA

Illinois
Yu Chen, Associate ASLA
Marisela Lujan, Associate ASLA

Idaho/Montana
Kendra Piedalue, ASLA

International Chapter
Shuyue He, International ASLA
Fengsheng Hu, International ASLA
Taekyung Kim, International ASLA
Shixian Shen, International ASLA
Jue Tang, International ASLA
Jun Zhai, International ASLA

Kentucky
Bianca Borges, ASLA

New York
Matthew Gindlesperger, ASLA
Brook A. Klausing, Affiliate ASLA
Elizabeth Rose Silver, ASLA

New York Upstate
Mark Schrader, Associate ASLA

Pennsylvania/Delaware
Ian Goldberg, Affiliate ASLA

Potomac
Dillon Patrick Lance, Associate ASLA

Texas
Kelly Campbell, ASLA

Washington
Belle Miller, Associate ASLA

Student
Reema Aboneaaj, Student ASLA
Emily Auble, Student ASLA
Stephen E. Baker, Student ASLA
Adeline Baney, Student ASLA
Peyton Barnhill, Student ASLA
Morgan Blevins, Student ASLA
Talia Brinker, Student ASLA
Travis Bryan, Student ASLA
Carlos Delgado, Student ASLA
Grace Duffy, Student ASLA
Mattie Ecklund, Student ASLA
Brianna Egan, Student ASLA
Mia Espinosa, Student ASLA
Catherine Forrest, Student ASLA
Erick Gomez, Student ASLA
Fiona Gorman, Student ASLA
Jacob Barrett Gotshalk, Student ASLA
Kailey Grooms, Student ASLA
Lily Hollatz-Guastella, Student ASLA
Abby Haney, Student ASLA
Farhan Khondaker, Student ASLA
Reid Klaben, Student ASLA
Kori Kurtzeborn, Student ASLA
Alyseona Lee, Student ASLA
Lakshita Malhotra, Student ASLA
Trey Martin, Student ASLA
Tristyn Dean Moyer, Student ASLA
Mikayla Ngo, Student ASLA
Chimdindu Okafo, Student ASLA
Sakhi Phang, Student ASLA
Holly Phares, Student ASLA
Rodney Ramirez-Jimenez, Student ASLA
James Schroeter, Student ASLA
Madelyn Scott, Student ASLA
Grace Sisofo, Student ASLA
Elise Stueve, Student ASLA
Skyler Nicole Terebieniec, Student ASLA
Amanda Truesdell, Student ASLA
Justin Welch, Student ASLA
Jessica Weyl, Student ASLA
Cooper Wilke, Student ASLA
Sean Williams, Student ASLA
Qian Yu, Student ASLA

Student Affiliate
Benjamin Bamgbade, Student Affiliate ASLA
Carla Carter, Student Affiliate ASLA
Menglei Guo, Student Affiliate ASLA
AJ Johnsen, Student Affiliate ASLA
LeBaron Merrill, Student Affiliate ASLA
Rowena Mohabir, Student Affiliate ASLA
Amber Powell, Student Affiliate ASLA
Emma Rosas, Student Affiliate ASLA
Taska Sanford, Student Affiliate ASLA
Andrew Topper, Student Affiliate ASLA
Trevor Wilson, Student Affiliate ASLA
Yi Wu, Student Affiliate ASLA

Student International
Taylor Casalena, Student International ASLA
Rui Dong, Student International ASLA
Yuan Feng, Student International ASLA
Alisa Li, Student International ASLA
Jiamu Li, Student International ASLA
Yi Gu, Student International ASLA
Jiani Guo, Student International ASLA
Vinith Kubdendran Nawaratnaraja, Student International ASLA
Yanzhao Ren, Student International ASLA
Yiling Yang, Student International ASLA