The HALS Challenge
2/7/2023Leave a Comment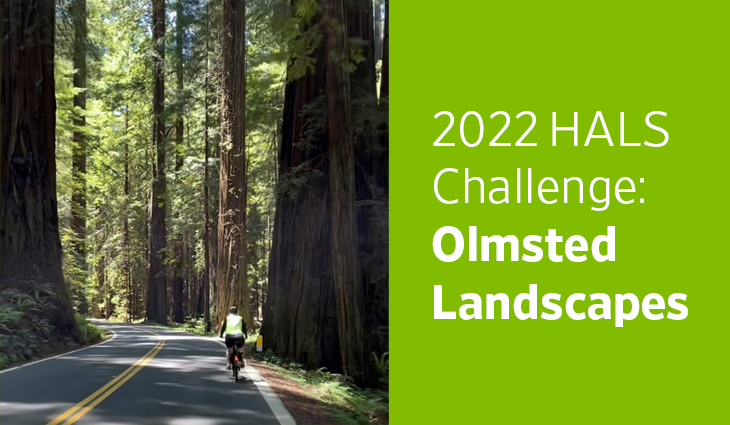 Results of the 13th annual Historic American Landscapes Survey (HALS) Challenge, Olmsted Landscapes, were announced at the ASLA Conference on Landscape Architecture on Sunday, November 13, 2022. Congratulations to the winners! Sponsored by the National Park Service, cash prizes were awarded to the top three submissions. The National Association for Olmsted Parks (NAOP) also awarded three framed certificate prizes for the best entries in the following categories: submission by a college or graduate student, work of the Olmsted firm in Ohio, and non-park work of the Olmsted Firm.
First Place: California's North Coast Redwood Parks, Job No. 08335, HALS CA-166
Del Norte and Humboldt Counties, California
By Douglas Nelson, ASLA, Landscape Architect

Second Place: Gray Gardens, Job No. 07036, HALS MA-9
Cambridge, Massachusetts
By Allison A. Crosbie, ASLA, City of Cambridge Historical Commission

Third Place: Lakeshore Highlands, Job No. 05945, HALS CA-167
Oakland, California
By Stacy Farr, Architectural Historian, Chris Pattillo, FASLA, HALS Northern California Chapter, Petra Marar, ASLA, Ellen Monroe, and Cathy Garrett, ASLA, PGAdesign, and Betty Marvin, Planner III, Historic Preservation, City of Oakland

Honorable Mention: Cadwalader Park, Job No. 01181, HALS NJ-9
Trenton, New Jersey
By Rebecca Flemer, Affil. ASLA, M.S. University of Pennsylvania, Evelyn Timberlake, M.S. University of Vermont, Randy Baum, ASLA, Licensed Landscape Architect, and David Bosted, Trenton Museum Society Trustee and Historian

National Association for Olmsted Parks (NAOP) Certificate for Submission by a College or Graduate Student: Terwilliger Parkway, Job No. 02642, HALS OR-8
Portland, Oregon
By Jeremy T. Ebersole, Historic Preservation Graduate Program, University of Oregon, with contributions by Anton Vetterlein; Wes Risher; William J. Hawkins, III – Friends of Terwilliger

National Association for Olmsted Parks (NAOP) Certificate for Work of the Olmsted Firm in Ohio: Hills and Dales Park, Job No. 03121, HALS OH-16
Kettering, Ohio
By Bernadette Whitworth, Historical and Cultural Resources Manager, Five Rivers MetroParks, Laura Stevens, Interpretation Coordinator, Five Rivers MetroParks, David Schmidt, Research Consultant, The Oakwood Historical Society, and Eric R. Sauer, RLA, Planning Manager, Five Rivers MetroParks

National Association for Olmsted Parks (NAOP) Certificate for Non-Park Work of the Olmsted Firm: Lawrenceville School, Job No. 00052, HALS NJ-10
Lawrenceville, New Jersey
By Elaine A. Mills, Registered Landscape Architect, ISA Certified Arborist, LEED AP

See The Field for the full list of 2022 HALS Challenge entries and for more information on each of the documented sites. This challenge resulted in the donation of 17 impressive HALS short format historical reports to the HALS collection for sites in twelve different states from coast to coast. Thank you to all entrants for expanding the HALS collection and raising awareness of the historic Olmsted landscapes!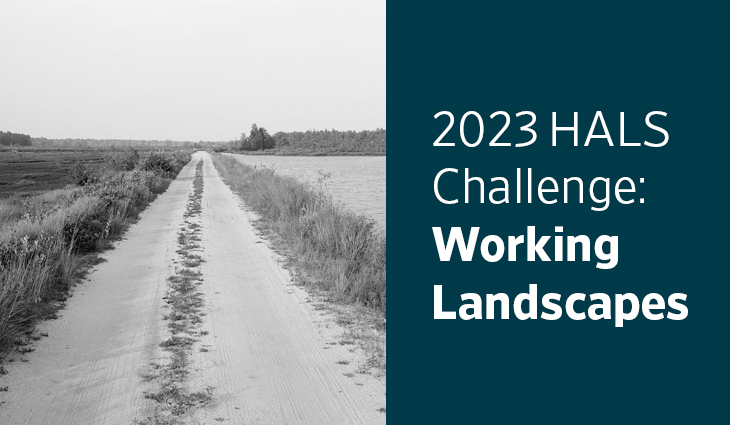 Whitesbog Village & Cranberry Bog, HALS NJ-1-61, Pemberton, Burlington County, New Jersey / image: Library of Congress, Prints and Photographs Division
For the 14th annual HALS Challenge competition, the Historic American Landscapes Survey (HALS) invites you to document Working Landscapes. Historic "working" or "productive" landscapes may be agricultural or industrial and unique or traditional. Some topical working landscapes convey water for irrigation or provide flood control. Please focus your HALS report on the landscape as a whole and not on a building or structure alone. For this theme, the HAER History Guidelines may be helpful along with HALS History Guidelines. 
Short format histories should be submitted no later than July 31, 2023, to HALS at the National Park Service (c/o Chris Stevens, 202-354-2146, Chris_Stevens@nps.gov). The HALS Short Format History guidelines and digital template may be downloaded from either the NPS HALS or ASLA HALS websites. NOTE: Any updates to HALS Challenge rules and to the MS Word digital HALS Short Format Historical Report Template are reflected within the template itself. Please download and read it thoroughly before entering the competition. If you like to learn by example, you may view or download the HALS Challenge Winners from 2018 and before. 
See The Field for more on the 2023 HALS Challenge. 
Beginning in 2024, HALS Challenges will no longer have themes. All HALS short format historical reports submitted each year will then be eligible. There will be 14 years' worth of themes and entries to turn to for inspiring examples. By not having a theme, we hope to encourage more entries from more states, and professors that teach HALS will be able to plan their curricula years in advance. HALS will also update the scoring sheet to include 5 bonus points for student entries to encourage more emerging professional interest in the HALS Challenge.
Preservation through documentation!