In Memoriam: Beatriz Coffin, FASLA
1/24/2023Leave a Comment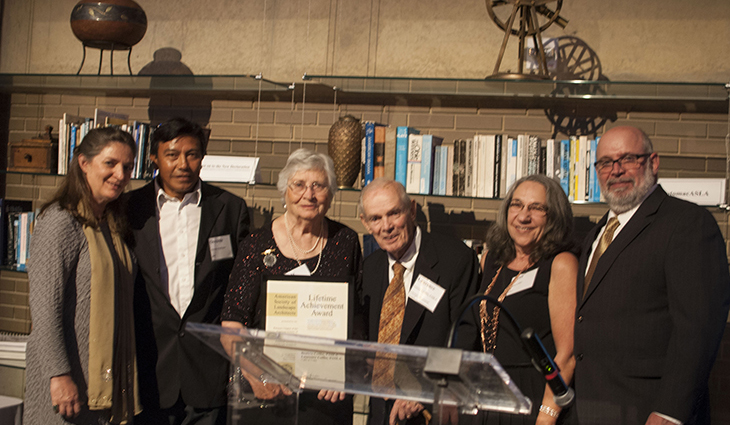 Beatriz de Winthuysen was born in Spain and lived with her family through the Spanish Civil War. Her father was a renowned Impressionist painter and a recognized authority in historical gardens and notable private and public projects. Time spent traveling with her family throughout Spain developed Bea's love for art, landscape and architecture. Bea attended university in Barcelona, Spain before moving to the United States to attend Furman University. After graduating she attended Cornell University, then went on to graduate from the Harvard Graduate School of Design, with a degree in Landscape Architecture.
Bea met her husband, Larry Coffin, at Harvard and after graduating moved to New York City to begin working for large architectural and landscape architectural firms. Bea worked for A. Carl Stelling (ASLA) and Volkert, Walker, Smith, Smith and Haines Associates. They were married in New York City in 1958 and thus began the firm of Coffin & Winthuysen.
During their years in New York, they worked on many interesting projects. Bea worked on the development of the site construction plans for the entire Stony Brook University campus. Larry worked on Lincoln Towers, a large housing project developed by Web & Knap, the project consisted of building clearance for a 10-block area between 64th & 70th St and 10 Ave to the railyard and Hudson River.
In 1965 they moved to Washington, D.C. In 1974 they changed the name of their landscape architecture and planning firm to Coffin & Coffin, which included many national and international projects in its portfolio. Bea founded the International Institute of Site Planning (IN SITU) in 1976.
Between 1989 – 1995 Beatriz was invited to work in three countries, Ecuador, Bolivia and Mexico, teaching university programs in Landscape Architecture and Site Planning.
Bea is a former steering committee member of the Design Advocacy Program for the D.C. Commission on the Arts and Humanities in Washington.
Our world has been greatly influenced by all the studies and projects they have produced. They have left us a very bright path to follow.
Read more:
From Bea's ASLA Lifetime Achievement Award:
https://www.potomacasla.org/wp-content/uploads/2020/03/Coffin-Lifetime-Achievement-Award.pdf
Obituary:
https://www.legacy.com/us/obituaries/washingtonpost/name/beatriz-coffin-obituary?id=38517605