LAF Launches Comprehensive New Program for BIPOC Students
1/24/2023Leave a Comment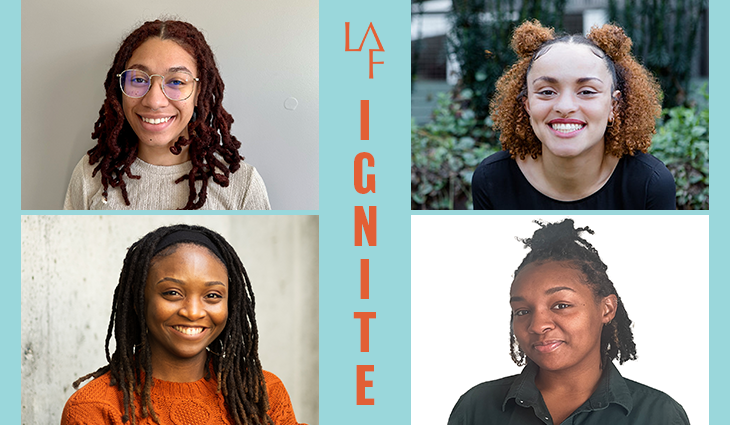 After years of planning, the Landscape Architecture Foundation (LAF) has announced the new LAF Ignite program and the first group of participants.
Students face many barriers between the time they enter college and join the workforce, particularly BIPOC students who may not see themselves or their lived experiences reflected in their faculty, employers, and peers. LAF Ignite is a multi-year scholarship, internship, and mentorship program designed to support BIPOC landscape architecture students through this important stage and beyond. For the first two years, the program will focus on Black/African American students and then be broadened to other students of color.

Ignite participants receive an annual $10,000 scholarship, an annual paid summer internship, and three types of mentorships throughout their academic journey. Each year, 3-5 students are accepted into the program and participate until they have completed their landscape architecture degree. Ultimately, up to 15 students will participate in the program concurrently.

After a competitive application process, LAF selected the first four Ignite participants:
Naomi Canino, Rhode Island School of Design
Ezra Lewis, University of Georgia
Shantol Morgan, University of Washington
Charlye Stewart, University of Pennsylvania
LAF also recognized five finalists who stood out during the selection process and will have access to LAF's network for mentorship and internship opportunities.
Isiah Dashiell, University of Maryland
Maurice Gaston, Illinois Institute of Technology
Kareem Harris, University of Wisconsin
Carington Light, North Carolina A&T State University
Amira Slocum, North Carolina State University
LAF Ignite is unique within the landscape architecture community and allied professions. Collectively, the three integrated components help students overcome prevalent barriers that scholarships, internships, or mentorship cannot do alone. The multi-year scholarships are critical to help students plan and ease their financial pressures. The integrated internships and mentorship components help students build a network, explore career options, and work through challenges with a supportive group of peers and mentors.

The program is the result of a concerted, years-long effort by LAF, a dedicated group of stakeholders, and more than 100 donors to accelerate the pace and scale at which the discipline addresses the underrepresentation of BIPOC professionals within landscape architecture. Extensive research, input and support from people across the discipline went into the development and launch of the program.

Through Ignite, as well as LAF's existing scholarships and Olmsted Scholars Program, LAF will ultimately award more than $350,000 annually to landscape architecture students.

To learn more about LAF Ignite, including how to apply, become an internship provider or mentor, or donate to support this important program, visit:
www.lafoundation.org/laf-ignite