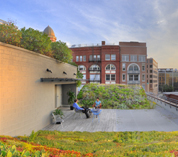 ASLA Green Roof
Learn more about how landscape architects can save cities millions of dollars, reduce obesity, and more.
Home
BENEFITS OF LANDSCAPE
ARCHITECTURE
Designing
Awesome
Restoring endangered wetlands, reducing hospital stays, securing government and other buildings, removing toxins from rainwater — these aren't pie in the sky. It's what landscape architects are designing right now. A few examples include:
Healing gardens — Working with medical professionals, landscape architects create landscapes that reduce stress, boost the immune system, improve Alzheimer's symptoms, encourage physical activity, and reduce time spent in hospitals.
Bioremediation — Landscape architects use natural systems of plants, fungi, or soil microbes to transform formerly polluted industrial sites into a safe and valuable public green space.
Green Roofs — Instead of a black tar roof, a living system of plants and soil can actually reduce air temperature by 59 degrees in the summer, save winter heating costs, clean and store rainwater, and provide habitat to pollinating insects and birds.
Energy Savings — Landscape architects can utilize trees, shrubs and other plants to lower a home's heating/cool costs by as much as 50 percent in the summer and up to 8 percent in the winter.