8/6/2012
Advocacy Summit Held to Boost Chapter Advocacy Capacity
ASLA's Government Affairs team held its annual "Advocacy Summit" on August 3-5 in Alexandria, Virginia. Volunteer representatives of 31 states gathered to discuss how to build and improve their chapter advocacy efforts. For the second consecutive year the Advocacy Summit 2012 was held in conjunction with the ASLA Public Awareness Summit, a forum designed to train members to develop tools and strategies to raise awareness of landscape architecture.
The focus of the 2012 Summit was to arm chapters with the knowledge and tools to implement an effective chapter level advocacy strategy. Part of an effective 2012-13 chapter advocacy strategy, attendees learned, will be to influence the interpretation and implementation of the recently passed Federal Surface Transportation law, also known as MAP-21, or the "highway bill." The federal highway bill provides substantial funding for active transportation projects, including bicycle and pedestrian projects, streetscape improvements, recreational trails, and more. This year's bill includes provisions that allow governors and state departments of transportation to opt out of portions of the critical Transportation Alternatives (formerly transportation enhancements) program. This is where ASLA Chapter advocates will be focusing. The continued success of these programs will rely in large part on the advocacy efforts of state and local groups demonstrating the value of these projects to their communities. ASLA national has been fighting for these programs in DC for years, and now is the time to bring the fight to our state capitols.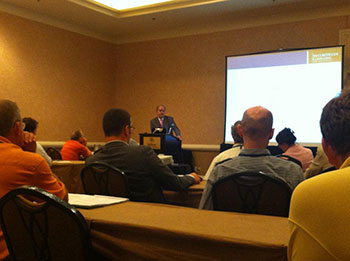 L. Preston Bryant Jr. from McGwire Woods Consulting LLC on "How to Hire and Work with a Lobbyist".

Beyond the in-depth look at state level advocacy for active transportation, summiteers also explored strategies for hiring and working with a lobbyist, featuring L. Preston Bryant Jr.  who has been retained as a lobbyist by the Virginia ASLA and Potomac ASLA. Bryant walked attendees through the process of searching for and hiring a lobbyist, the day to day relationship and how to set and manage expectations and determine outcomes. He also talked about his role in liaising with the VAASLA and state leaders in their successful campaign in 2011 to fight back an attempt to deregulate the profession in Virginia.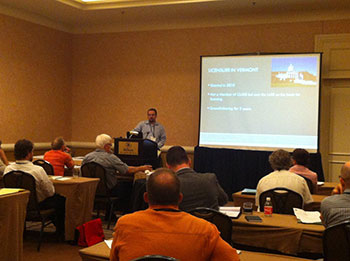 Paul Simon, ASLA, discusses licensure challenges in Vermont.

Attendees spent the remainder of the afternoon on Saturday discussing current challenges to licensure in states ranging from attempts led by a government efficiency board, like Virginia and Michigan; to legislative attempts to roll back licensing in Florida and Missouri. Attendees shared their stories and best practices for fighting off these attempts. Regardless of where the threat has emanated it remains critical for chapters to be aware, and beware, of attempts to roll back hard-fought licensure gains. One way to remain relevant and engaged in the political process is the use of regular grassroots engagement via the ASLA Advocacy Network. Another is to hold a regular event or 'advocacy day at your state capitol. Summiteers heard from the Connecticut, South Carolina, and North Carolina chapters, on how they have carried out successful advocacy day events in their respective statehouses. Much like chapter arrangements with lobbyists or consultants, these events can be tailored to meet different chapter needs and budgets. 

If you or your chapter was not able to attend this year's Advocacy Summit, or you want to help make a difference in your state, visit ASLA's Advocacy Tools page  for toolkits and resource guides designed to help you carry out an effective state or local advocacy program or event. In addition, chapters interested in using the Advocacy Network to reach out to state and local elected officials are encouraged to contact Kevin O'Hara kohara@asla.org. If you would like to get involved in chapter level advocacy please contact your chapter president or contact ASLA national staff governmentaffairs@asla.org to identify your chapter's advocacy contact.