1/9/2012
ASLA on the Hill 2011: Legislative Victories, Potential Future Successes
In 2011, ASLA successfully worked with federal legislators and other policymakers on a number of issues that benefit landscape architects and their small businesses. As the first session of the 112th Congress concluded, ASLA celebrated a number of legislative victories and set the stage for future policy successes on behalf of the landscape architecture profession. 
Economic Recovery for Landscape Architects
One of the most important legislative victories for ASLA came on November 19, 2011, when President Barack Obama signed into law H.R. 674, legislation to repeal the law that required a 3 percent withholding on all payments from federal, state, and local government. With the repeal of this law, businesses, including landscape architecture firms, will not be forced to forfeit 3 percent of all payments received from federal, state, and local governments for services rendered under government contracts. As a member of the Government Withholding Relief Coalition, ASLA worked diligently to repeal this law that would have been onerous for many landscape architecture firms, including restricting the much-needed cash flow of these firms. 
In 2011, ASLA also urged the Small Business Administration (SBA) not to increase the cap for gross annual revenues for consideration as a small landscape architecture business for federal government contracting purposes from $7 million to $19 million. With 80 percent of all landscape architecture firms having less than $1 million in gross annual revenue, raising the dollar amount to $19 million for consideration as a small business could severely disadvantage nearly all landscape architecture firms in the country. Currently, SBA is reviewing ASLA's recommendation not to increase the dollar amount and will respond in the near future. 
Transportation Planning and Design
Federal transportation policy was an important priority for ASLA in 2011. ASLA Government Affairs worked diligently to protect and preserve transportation programs critical to landscape architects, including the Transportation Enhancements, Safe Routes to School, and Recreational Trails programs, while also advocating for a new federal Complete Streets policy. 
In 2011, ASLA staved off several attacks to the Transportation Enhancements (TE) program when U.S. Senators Tom Coburn (OK), John McCain (AZ), and Rand Paul (KY) each offered an amendment to various transportation bills to eliminate or gut the highly successful TE program. During consideration of each of these amendments, ASLA and its grassroots activists urged their senators to reject these amendments and pointed out the myriad of benefits provided by the TE program, including the economic benefits to communities and critical jobs for landscape architects. As a result of these advocacy efforts, the Senate rejected these amendments and left the TE program intact for now. 
After years of consistent advocacy efforts by ASLA Government Affairs and the ASLA grass roots, another important legislative victory came on December 14, 2011, when the U.S. Senate Committee on Commerce, Science, and Transportation unanimously adopted an amendment authored by Senators Mark Begich (AK) and John Thune (SD) to establish a federal Complete Streets policy. Specifically, the Begich/Thune amendment would call on the Secretary of Transportation to "establish standards to ensure that the design of federal surface transportation projects provides for the safe and adequate accommodation, in all phases of project planning, development, and operation, of users of the transportation network, including motorized and nonmotorized users." Under the amendment, states with their own Complete Streets policies would get a waiver from the federal policy. The Begich/Thune amendment was adopted as part of S. 1950, the Commercial Motor Vehicle Safety Enhancement Act, which is the Senate Commerce Committee's portion of the reauthorization of the surface transportation law that addresses freight and safety issues. This is the first time that a federal Complete Streets policy has been included in a major piece of federal legislation. 
While these are important successes for the landscape architecture profession, ASLA will continue its efforts in 2012 to ensure that the final reauthorization of the surface transportation law includes a federal Complete Streets policy and robust TE, Safe Routes to School, and Recreational Trails programs. 
Promoting Green Infrastructure
In the 112th Congress, ASLA Government Affairs continued its work to promote the use of green infrastructure to address a number of national issues, including managing water. In 2011, ASLA submitted 479 case studies on landscape architecture projects that successfully and sustainably manage stormwater to the U.S. Environmental Protection Agency (EPA). As EPA prepares to unveil a proposed rule to strengthen the national stormwater program, these projects will demonstrate the cost-effectiveness and efficiency of using green infrastructure to help manage our nation's stormwater. To further highlight green infrastructure and landscape architecture design techniques, on May 26, 2011, ASLA hosted more than 60 congressional, administration, and affiliated organization staff for the ASLA congressional briefing, tour, and reception on our award-winning green roof. 
ASLA also worked with Congresswoman Donna Edwards (MD) and Senator Tom Udall (NM) to reintroduce the Green Infrastructure for Clean Water Act (H.R. 2030, S. 1115) ( https://www.asla.org/FederalGovernmentAffairs.aspx?id=25688), which would provide assistance to communities that want to employ green infrastructure projects to address their water quality and quantity needs. ASLA is working to gain cosponsors for the measures and move them through the legislative process.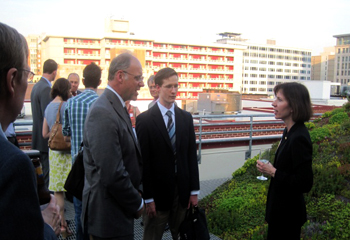 American Society of Landscape Architects Executive Vice President/CEO Nancy C. Somerville, Hon. ASLA, entertains guests on the ASLA green roof.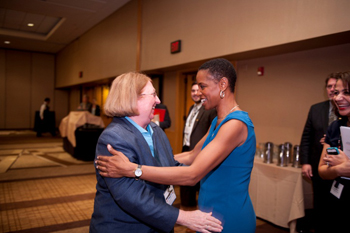 Congresswoman Donna Edwards (MD) greets American Society of Landscape Architects then-Vice President of Government Affairs Stephanie Landregan, FASLA.
ASLA Advocacy Network—Shaping the Political Landscape
The ASLA Advocacy Network continues to be a valuable tool in promoting ASLA's legislative agenda, and 2011 was a banner year for advocates using the network. More than 5,790 ASLA activists sent 13,738 messages to their policy makers—up from 8,536 messages in 2010. ASLA advocates showed strong grassroots efforts in campaigns to protect the Transportation Enhancements (TE) program, the Recreational Trails Program, and the Land and Water Conservation Fund, and in support of H.R. 2030, the Green Infrastructure for Clean Water Act. In addition to sending critical messages to policy makers, ASLA has used the network to keep ASLA members informed on important grant opportunities, including U.S. Department of Housing and Urban Development Sustainable Communities Challenge Grants, U.S. Department of Transportation TIGER Grants, and more. The 2012 congressional legislative calendar will be packed with issues of importance to ASLA, and continued grassroots activism will be crucial to protecting and supporting federal programs that landscape architects use to help design healthier, more sustainable communities. 
As Congress begins the second session of the 112th Congress, ASLA Government Affairs is continuing its efforts to ensure that lawmakers pass strong policies that use the skills of landscape architects and help their firms thrive in 2012 and beyond.