5/9/2011
End of NLAM 2011 Marks the Beginning
With a reported 123 events thus far, Landscape Architecture Month 2011 ended last week. This end began a new understanding and appreciation of the profession for an estimated reach of 372,600 people across the country, all things considered. The Society stood up and realized the importance of engaging this public.
Now stand up wherever you are and take a bow, as for the first time, all 48 chapters and many student chapters took action in some way. Here are some of the activities.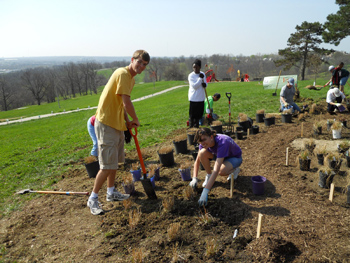 Prarie Gateway invites public to create a native plant garden in community park
From Nicole Scholten's "Drawing and Painting" class at Clark Montessori High School in Cincinnati to a now more sustainable Narbeck Wetland Sanctuary in Everett, Oregon, people noticed. Landscape architects care about their communities and are very much willing to educate them on ecological issues, involve them in a project, and, yes, even dig alongside them in the dirt. Many learned how to identify and remove invasive species and how water resources can be managed to reduce waste. Blue Valley Park in Kansas City, Missouri, now has a native plant garden constructed by the Prairie Gateway chapter and volunteers.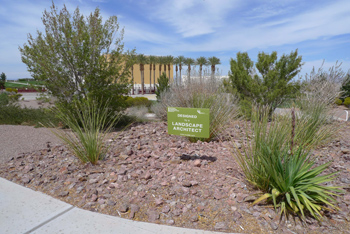 In Nevada, "Designed by a Landscape Architect" signs demonstrate the profession's contributions

.

Without even seeking out the opportunity, people noticed landscape architecture. Many glanced at a Landscape Architecture Magazine as they waited for the DMV, the dentist, or a delicious latte with extra foam. When walking in parks and plazas in Nevada and California, people encountered signs reading "Designed by a Landscape Architect." Indiana benches set up across notable landscapes allowed for the access of even more information about the profession with the scan of a bar code and a smartphone.
It wasn't just scores of members taking actions to engage the public but, many times, the opportunity one landscape architect stumbled upon made all the difference. Pamela Linn, ASLA, designed the "Nature Area" for Wales Elementary School in Wisconsin where her friend's children attend. She inquired whether help was needed, worked with parents and staff, and will help them implement the plan this spring. The plan calls for stepping-stones, and the students are now going to make them as an art project. They are also planning to integrate the space into their curriculum.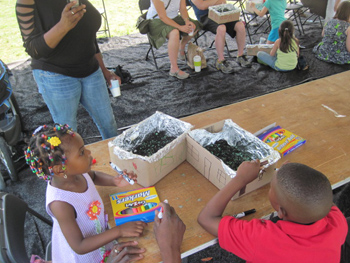 In Georgia, future landscape architects design their first green roof.
Stella Wiggins, Associate ASLA, of Georgia created mini-green roofs with families on Earth Day. Ryan Seacrist, Associate ASLA, West Virginia's newly minted PR representative, worked with one of the smallest chapters of ASLA to involve the city of Charleston in a wildflower planting on the city's riverfront. These efforts and their work in the local schools got them featured in The Charleston Gazette.
Amie Wojtech, ASLA, president of Nevada's chapter, spent one day picking up trash in Red Rock Canyonas part of an NLAM activity. She lamented that getting outside did not happen enough and appreciating all the natural beauty really provided perspective and hopes others have the opportunity to do the same. Texas did just that by partnering with the local AIA component to host a "Day at the Park" in Dallas full of scavenger hunts and picnics and ending with a walking tour of the arts district. Getting folks to understand the importance of our interaction with the natural environment is really what this month is about. Furthermore, understanding a profession exists that skillfully can do so became apparent with all of these events.
Don't be surprised if, while at your next social gathering, someone asks you how you earn your living, and the attendees don't automatically assume you're into mowing lawns and mulching. They may actually start asking about the latest trends in bioswales. April events and publicity are bringing showers of awareness in May.
We have the dedicated members of ASLA to thank for that. If you know someone who got involved, be sure to offer your gratitude and always remember that April is just an excuse to do what we can do every day.
Contact Mike Cowden, Public Relations and Communications Coordinator, at mcowden@asla.org with questions, and please send pictures, media coverage, videos, and tales of NLAM 2011.