9/20/2010
Secretary Salazar and NPS Director Jarvis Help Celebrate the Profession
United States Department of Interior Secretary Ken Salazar and National Park Service (NPS) Director Jon Jarvis, Hon. ASLA, joined the 5,200+ participants of the ASLA Annual Meeting and EXPO in celebrating the work of landscape architects.
On September 9, NPS Director Jarvis attended the ASLA Honorary Members Reception to personally acknowledge his status as an honorary member of the Society.  During his remarks, Jarvis thanked the thousands of landscape architects working for NPS for their diligent efforts in safeguarding America's national treasures.  He also lauded the profession for continuing to be good stewards of our nation's natural and cultural resources.  Immediately following the Honorary Members ceremony, Director Jarvis was on hand to celebrate 10 years of ASLA-NPS partnerships by joining ASLA Executive Vice President Nancy Somerville, Hon. ASLA, in renewing the Memoranda of Understanding for the 
Historic American Landscapes Survey
 () (HALS) and 
Rivers, Trails, and Conservation Assistance Program
(RTCA).  Ford Peatross of the Library of Congress was also on hand to sign the HALS agreement.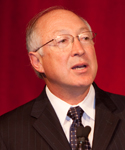 U.S. Department of the Interior Secretary Ken Salazar
Then, on September 13, Secretary Ken Salazar attended the ASLA President's Dinner to accept the 2010 Olmsted Award for his commitment and continued efforts in protecting and preserving our nation's lands and waters as well as its cultural resources. NPS Director Jarvis also joined the Secretary for this exciting evening of 2010 ASLA awards.
During his remarks, Secretary Salazar's focused on America's Great Outdoors (AGO) initiative, launched by President Barack Obama this spring.  The Initiative is a national dialogue about conservation and reconnecting Americans with the outdoors. Salazar outlined his plans to engage the public on his vision of creating the next generation of great urban parks, encouraging young people to spend more time in the outdoors, and protecting treasured landscapes across the country.  To date, over 30 listening sessions have been held across the country bringing together stakeholders from a broad range of perspectives, and thousands of concerned citizens have offered their thoughts online.  Salazar concluded by thanking landscape architects for creating such "memorable places" and urged them to continue to be examples of good stewards of our country's resources.
On November 15, 2010, Secretary Salazar will present a report to President Obama on how to continue to protect and best utilize our great outdoors.  ASLA encourages all members to submit their comments that will help shape this agenda. Click HERE to submit your comments online, thank Secretary Salazar for his leadership, and offer your thoughts on what this 21st century conservation agenda should look like. The deadline to comment is Friday September 30.