2/21/2017
Victor Stanley Relay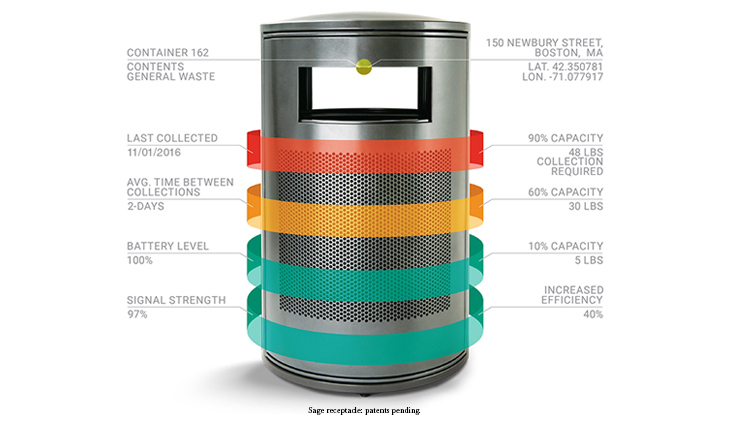 Introducing the Victor Stanley Relay™ Sensor and Service. Most current waste and recycling collection systems follow a static model, where containers are picked up regardless of their content or fill level. This inefficiency has an impact on monetary, environmental, and community costs, with some containers overfilling before they are collected, while others sit empty, yet are picked up anyway. There wasn't a better way, so Victor Stanley created one. Victor Stanley Relay™ modernizes this system by monitoring the fill levels and weights of all containers, so that they can be collected at the optimal time. This service saves on collection expenses and ensures resources are allocated efficiently, while reducing fuel costs, carbon footprints, and unsightly overflowing waste.
Victor Stanley Relay™ is an all-in-one solution, which features fully integrated sensors within new and existing Victor Stanley litter receptacles and recycling stations, wireless communications, and dedicated web portal for access to container conditions. Utilizing their decades of experience, they designed their proprietary Street Level Sensing™ technology to meet the challenges site furnishings face in high-use, commercial and urban environments at the street level. This means that fill level, weight, system temperature, container location, and collection status are continuously monitored — and real‐time container conditions are automatically transmitted to the Relay Service web portal using standard cellular networks. 
To maintain aesthetics, Relay Sensors can be hidden within any Victor Stanley side loading litter receptacle or recycling station. But smart design is only part of the story, because their sensors are designed and built to remain reliable and accurate even in harsh environmental conditions. And they work with any type of waste (general trash, mixed recyclables, paper, glass, metals, etc.) while remaining out of sight, economical, and ecologically friendly. 
The onboard GPS module provides longitude and latitude coordinates of each container and communicates its location to the Relay Service web portal. In turn, the geocoding service automatically looks up the container's current street address and updates its location. This saves time, money and aggravation when relocating containers for special events or reassignment.
Efficiencies include:
Efficient resource allocation saves an estimated 20‐40% in collection expenses
Elimination of overfilling improves aesthetic appeal and community satisfaction
Optimization of collection fleet reduces fuel waste, traffic congestion, and environmental impact
Monitoring of containers provides holistic view of an area's trash and recycling status and improves landfill diversion rates