12/11/2013
Sponsor Spotlight; Street Charge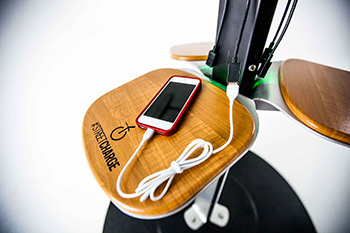 According to a recent Pew Survey, 56 percent of all Americans now own smartphones. And, when it comes to computing, mobile users will exceed desktop users by 2014. All this adds up to an immense need for power for people on the go. Enter Street Charge.
Street Charge was created for people who demand always on, anywhere, anytime connectivity.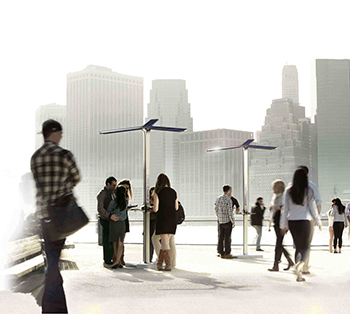 "Our users fill minutes, sometimes seconds, tapping into the web to decide where to go, who to see, and what to eat," says Adam Nicosia, director of sales for Street Charge.

Charging stations are now everywhere – airports, cafes, and restaurants. "But our product was designed for those times in between, when people are on the go, away from their home, office, or local Starbucks," says Jaremy Butler, chief engineer for the Street Charge project. He adds, "It offers them a chance to be outside but still use their phone to talk, text, surf, check emails, and play games without fearing the dreaded low battery beep."

Street Charge is a drop-in solar solution and well suited for established landscapes where hardwiring is simply not an option. It's perfect for landscape architects who are: 
Creating spaces for people to congregate, relax, and enjoy outdoors
Seeking sustainability, LEED credits
Reclaiming outdoor spaces for the public. 
The operation is simple, and it's rewarding to use. Street Charge collects energy from the sun via three 20W solar panels; stores power in a 168W internal lithium battery; and makes power available to uses via six built-in USB ports. There are signage elements for advertising and way finding. Clients can also customize the unit, specifying their own colors for commissioned projects.

In 2013, its first year of existence, Street Charge has been deployed in 18 cities already with 25 units in New York City alone. It has easily integrated itself into built and natural environments in the U.S., Europe, Middle East, and Australia. Deployments include: 
Public parks, recreational spaces
Commercial spaces, retail
Government buildings & grounds
University campuses
Community playing fields.
For more information on Street Charge, visit our website at www.street-charge.com, contact Adam Nicosia at anicosia@street-charge.com, or 888-370-2926.