The Dirt's Best Books of 2013
12/11/2013Leave a Comment
In what has become an annual tradition, The Dirt offers a number of must-have books on design and the environment that came by our desks this year. All would make great presents for your favorite landscape architect or designer. Here are our top ten books of 2013: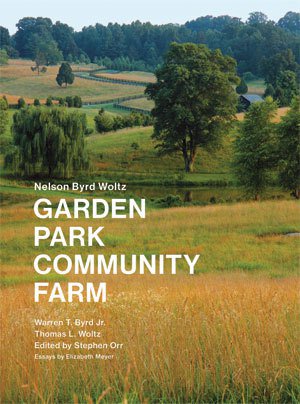 Garden Park Community Farm
by Warren Byrd, FASLA, Thomas Woltz, FASLA, Elizabeth Meyer, FASLA, and Stephen Orr (Princeton University Press, 2013)
This coffee-table book highlights some of their recent and best designs, but also showcases their philosophy as landscape architects, one that "encourages a responsiveness to the environment through artful design and ecological narratives that connect people to place." Read the full review in The Dirt.
The Frackers
by Gregory Zuckerman (Portfolio, 2013)
From
The New Republic
review: "Zuckerman's fast-paced, densely interesting The Frackers is the first book to tell the stories of the obstinate, ravenous, methodical, sometimes rascally oil executives of the recent boom. By focusing on people instead of trends, it gets to the heart of why the United States is once again the largest supplier of oil and gas in the world."
Go: A Kidd's Design to Graphic Design
by Chip Kidd (Workman Publishing, 2013)
From
Kirkus Reviews
: "Beginning with the striking cover design—a red stop sign reading 'GO'—this book challenges our assumptions about what we see and read. Kidd skillfully uses typography and illustration to demonstrate how graphic design informs the ways we make decisions that affect our lives. . . . An engaging introduction to a critical feature of our modern, design-rich environment."
Humans of New York
by Brandon Stanton (St. Martin's Press, 2013)
From
The Atlantic
magazine review: "Visually arresting and disarmingly deep… The photographs in this volume, some of which have never been published before, capture the city's inhabitants with a commendable eye for demographic diversity and everyday street fashion. But it's Stanton's interviews with his subjects, usually excerpted from their rawest moments, that are the most captivating as they highlight both the hardship and the little victories of an often-unforgiving city."
If Mayors Ruled the World: Dysfunctional Nations, Rising Cities
by Benjamin Barber (Yale University Press, 2013)
In
The New York Times Book Review
, Sam Roberts, writes: "Barber's book is the most audacious — even messianic — of a torrent of recently advanced urban manifestoes. He tosses out facts with abandon, all in an effort to persuade the reader that modern cities are the incubators for problem-solving while national governments are doomed to failure."
In the City
by Nigel Peake (Princeton Architectural Press, 2013)
Nigel Peake sees cities, wherever they are, as an aggregation of units: the smallest materials and patterns give shape to the larger ones (apartments, stores, and parking lots), and then greater collections (neighborhoods and boroughs). Streets and bridges also fascinate him, as they separate and define the units that make up the city, but are also central to its patterns. He is awed by the sheer diversity of textures in a city — and how they fragment and change over time, creating a new city in the process. Read the full review in The Dirt.
James Turrell: A Retrospective
by Michael Govan, Christine Kim, Florian Holzherr, and others (Prestel, 2013)
"If you are unfamiliar with artist James Turrell, this is your chance to be immersed in his work, which harnesses space and light to play with your perceptions. If you are familiar, you will be dazzled by the breadth of his career, from sketches and small light projects to one of the most ambitious art projects in the world, the remolding of Roden Crater in Arizona that realigns the visitor with his or her senses…and the world." — Terry Poltrack
The Nature of Urban Design: A New York Perspective on Resilience
by Alexandros Washburn, Hon. ASLA (Island Press, 2013)
Entertaining and attractively designed, Alexandros Washburn's new book provides a fantastic introduction to the discipline of urban design for non-designers. Washburn, the chief urban designer for New York City, uses New York City as a case study to explain what exactly urban designers do and why it matters. He broadly defines urban design as "the art of changing cities, guiding growth to follow new patterns that better meet our challenges while improving our quality of life." Read the full review in The Dirt.
The Third Coast: When Chicago Built the American Dream
by Thomas Dyja (Penguin Press)
From Michael Kimmelman,
The New York Times
architecture critic: "Thomas Dyja's The Third Coast is a wonderful, beautifully-written, eye-opener and genuine page-turner about Chicago, as sweeping and astonishing as the city itself. It does nothing less than help rewrite postwar American history and culture and cure our bi-coastal myopia. It links half-a-century's worth of economic and social changes with cultural revolution, racial strife with sexual upheaval, architecture with politics, literature with gospel music, Hugh Hefner with Tina Fey, Mies van der Rohe with Mayor Daley, Ray Kroc with Katherine Kuh—it's the whole grand, messy American story, lived through bigger-than-life characters in a bigger-than-life city."
Water
by Edward Burtynsky (Steidl, 2013)
From the Amazon.com review: "Often using a bird's-eye perspective, the photographer shows us its remote sources, remarkable ancient step-wells and mass bathing rituals, the transformation of desert into cities with waterfronts on each doorstep, the compromised landscapes of the American Southwest. Furthermore, Burtynsky explores the infrastructure of water management: the gigantic hydroelectric dams and terraced rice fields in the heart of China, the vast irrigation systems of America's bread basket and the use of aquaculture. The colour photographs in this book are poetic and at the same time highly relevant: they reveal another vital component of our life on earth that drives the bloom of civilization, and foreshadow the extent to which our future depends on our everyday behavior in dealing with this increasingly scarce resource."
Also, here are a few notable books for sustainable landscape design educators, students, and practitioners:
Principles of Ecological Landscape Design
by Travis Beck, ASLA (
see The Dirt review
);
Therapeutic Landscapes: An Evidence-Based Approach to Designing Healing Gardens and Restorative Outdoor Spaces
by Clare Cooper Marcus, Honorary ASLA, and Naomi Sachs, ASLA (
see The Dirt review
);
Designing Urban Agriculture: A Complete Guide to the Planning, Design, Construction, Maintenance, and Management of Edible Landscapes
by April Philips, FASLA (
see The Dirt review
);
Creating Green Roadways: Integrating Cultural, Natural, and Visual Resources into Transportation
, James L. Sipes, ASLA, and Matthew L. Sipes (
see The Dirt review
);
Rendering in SketchUp: From Modeling to Presentation for Architecture, Landscape Architecture, and Interior Design
by Daniel Tal, ASLA (
see The Dirt review
); and
R. Buckminister Fuller: World Man
by Daniel Lopez-Perez (
see The Dirt review
).
For more, check out
Books by ASLA Members
, a hub offering up hundreds of books written over the years (all available via Amazon.com), and the
top 10 books from 2012
.