11/5/2013
How to Own an Issue: Case Study New Mexico
Hosting a policy conference can be hard work. Just ask Rob Loftis, ASLA, from the New Mexico ASLA chapter. On October 18th, over 100 professionals from a wide range of disciplines converged at the National Hispanic Cultural Center in Albuquerque to discuss innovative stormwater management in the Albuquerque metropolitan area. Rob and his colleagues brought together policymakers, landscape architects, engineers, planners, academics, students, and grassroots advocacy groups to highlight emerging trends and opportunities in managing stormwater in New Mexico.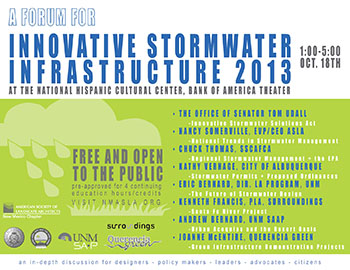 NMASLA recruited speakers from local government, the University of New Mexico, and local non-profits, as well as ASLA's Executive Vice President and CEO, Nancy C. Somerville, Hon. ASLA, who offered a national perspective on trends and innovation in stormwater management. Notably, the NMASLA was able to tie their local expertise to ASLA's federal initiatives by highlighting the soon-to-be reintroduced Innovative Stormwater Infrastructure Act, which would provide grants for communities to plan and install green infrastructure projects, and create regional centers of excellence that provide the research and best practices for practitioners implementing sustainable stormwater solutions. The Chapter also confirmed the attendance of staff from the office Senator Tom Udall (NM), the bill's author. (Unfortunately, Udall's office was unable to participate due to the government shutdown.)

Landscape architects are the professionals that are best equipped to holistically and innovatively design stormwater management practices that not only deal with the water, but also add tremendous value to communities. It was once said that landscape architects have the opportunity to "own stormwater". Efforts like this conference that bring together regulators, practitioners, academics, and policymakers, raise the profile of landscape architects and their pioneering work on this issue and help break down silos that could help increase opportunities for the profession.

In addition to an annual stormwater conference, NMASLA has also hosted summits and workshops on active transportation, highlighting the design role of landscape architects in creating transportation corridors and networks that provide active transportation choices.

While Loftis admits that pulling together a local conference of this magnitude can be a lot of work, "this model is fairly easy to replicate, with persistence, help, and a creative vision other ASLA chapters can also take a leadership role on issues of importance to their chapter and to decision makers in their area." Loftis offers a few pointers on pulling together an event like this:

1. Be creative
2. Use your members' projects as case studies
3. Start your planning early
4. Engage your academic community
5. Get space/materials/time/labor donated
6. Involve allied professionals
7. Involve and invite local/state/national elected officials
8. Tie these local initiatives to Chapter or National advocacy priorities

NMASLA hopes that this event and other advocacy initiatives will foster meaningful progress on stormwater quality issues throughout the state, while increasing the opportunities for LA's lead in this arena.

In the coming weeks, the Chapter will post on their website the conference presentations, which include information and materials on the City of Albuquerque's proposed stormwater ordinances; the University of New Mexico Landscape Architecture Department's analysis of how research institutions are striving to provide data on regionally appropriate best management practices; and local practitioner projects that address stormwater management. Visit www.nmasla.org for more information.

If you or your chapter would like to host a similar event please let us know by contacting Kevin O'Hara (kohara@asla.org), ASLA's manager of government affairs.