11/5/2013
U.S. Department of the Interior Announces Funding for Post-Sandy Habitat and Ecosystem Restoration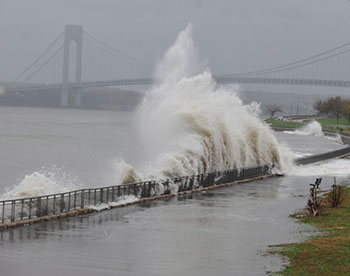 To mark the one-year anniversary of Hurricane Sandy, Secretary of the U.S. Department of the Interior (DOI) Sally Jewell has announced a Request for Proposals (RFP) to fund science-based solutions to restore natural areas along the Atlantic Coast.
"By stabilizing marshes and beaches, restoring wetlands, and improving the resilience of coastal areas, we not only create opportunities for people to connect with nature and support jobs through increased outdoor recreation, but we can also provide an effective buffer that protects local communities from powerful storm surges and devastating floods when a storm like Sandy hits," said Secretary Jewell.
The $100 million Hurricane Sandy Coastal Resilience Competitive Grant Program will be administered by the National Fish and Wildlife Foundation, which will begin accepting proposals today. Grants from $250,000 to $5 million will be awarded to projects that assess, restore, enhance, or create wetlands, beaches, and other natural systems to better protect communities as well as fish and wildlife species and habitats from the impacts of future storms and naturally occurring events. This competitive grant program will fund innovative projects by states, local communities, tribes, nonprofit organizations, and other partners to rebuild, restore, and research these natural areas along the Atlantic Coast. Applicants can download the
Request for Proposals
here.
Earlier this fall, DOI announced the awarding of $162 million for
45 projects
that focus on ecosystem restoration, and in May released $480 million in emergency Sandy disaster relief to repair and rebuild parks, refuges, and other storm-damaged assets.
The landscape architecture community has been integral to planning for post-Hurricane Sandy rebuilding efforts in communities across the mid-Atlantic, and many landscape architects are leading the way in developing resilient climate smart projects to address the threat posed by future storms. A recent
LAM blog post
highlights the role of a number of prominent landscape architects who are participating in the U.S. Department of Housing and Urban Development Hurricane Sandy
Rebuild by Design
competition.
If you or your firm has been involved in rebuilding after Sandy or has been working to mitigate and adapt for changing climactic conditions, and you will be in Boston for the ASLA
Annual Meeting and EXPO
, ASLA would love to hear your perspective at an Open Forum on Climate Change on Sunday, November 17, from 11:00 a.m.to 12:30 p.m. Eastern, in room 254 of the Boston Convention Center.