11/5/2013
Sponsor Spotlight: Landscape Structures
Landscape Structures, Inc., based in Delano, Minnesota, is the leading manufacturer of commercial playground and park equipment in the world. Innovation has been the hallmark of Landscape Structures' business and culture since the day its doors opened in 1971. With unmatched design expertise, material options, and advanced manufacturing capabilities, the company's designers, artists, and engineers create innovative playground products and designs that encourage kids to get outside to play and be active.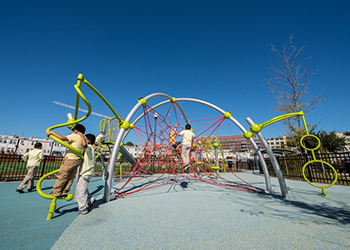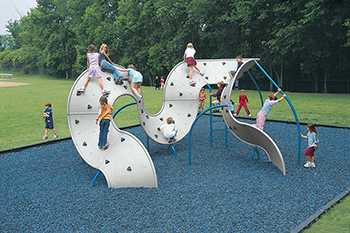 Playgrounds today compete with YouTube, Xbox, and the App Store, which is why it's so important to have school and community playgrounds that can entice kids to step away from the screens for outdoor play. Landscape Structures' playgrounds are designed to do just that. With playground net climbers like the innovative Eclipse Net Plus and Aeronet Climbers, kids are able to choose their own adventure. At first kids will stay low to the ground on more secure cables, and when they've mastered that there is opportunity for graduated challenge by going higher and engaging new muscles.
Even more than providing a more challenging play experience, these net climbers along with the Mobius Climbers offer a more visually appealing look. Park and playground designers can use them to create a playground that is not only fun, but artful and iconic—a space that is sure to become a community gathering place.
Learn more about playground climbers from Landscape Structures here, and contact your local playground consultant to get started on a design for you and your clients today!