10/22/2013
Sponsor Spotlight: Perfect Garden Group
Gaze Burvill
Gaze Burvill designs and makes exquisite outdoor kitchens and furniture at their workshop in the English countryside between Winchester and London.
Craftsmen steam bend solid oak by hand into beautiful flowing curves, uniquely shaped for outstanding comfort and style, its soft lines echoing the gentle shapes in the landscape. Gaze Burvill furniture is renowned for its refined detailing and elegance.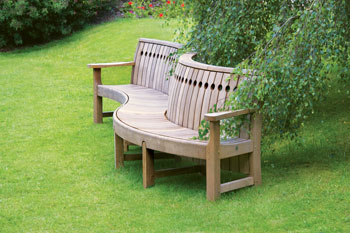 With an honest commitment to design integrity and traditional craftsmanship, the company uses only carefully sourced oak from sustainably managed forests. Respect for the environment is a fundamental consideration in everything the company does.
Gaze Burvill clients include prestigious organizations such as the Royal Parks, the Royal Horticultural Society (RHS), Kew Gardens, and the National Trust, as well as numerous private clients. Their work has been selected by award-winning landscape architects for projects around the globe. All share a passion for well-designed, beautifully made kitchens and furniture for terrace, garden, and poolside, to delight the eye and stand the tests of weather and time.
With a growing clientele in the United States, Gaze Burvill will be exhibiting at the 2013 ASLA Annual Meeting and EXPO for the first time. As part of the 'Making of a Perfect Garden' group, their award-winning designs will be representing the very best of British outdoor talent. Simon Burvill and Geoffrey Wheating will be at the Annual Meeting and EXPO and look forward to meeting you there; otherwise do get in touch via the website, by email at geoffrey@gazeburvill.com, or by telephone +44 1420 588444.
Alitex
Alitex is a British manufacturing company, designing and engineering high-quality Victorian greenhouses in aluminum. Alitex replicates all the beauty of timber but without the maintenance by using the finest modern materials, technology, and craftsmanship.
Engineered to withstand the elements, Alitex greenhouses can be found in public and private gardens around the world, from the United States to Chile, from Australia via Europe to Russia. Each greenhouse is tailor-made to provide the best-looking structure while always creating the optimum growing environment.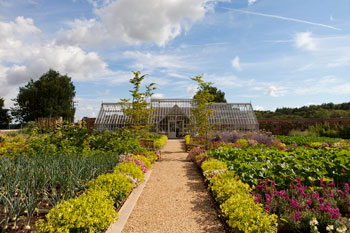 Founded in 1952 and based in Hampshire, England, Alitex designs and manufactures everything at their show site, ensuring a consistent and enviable quality.
Alitex has long been the choice of gardening enthusiasts and horticultural professionals alike, earning an endorsement from the Royal Botanic Gardens, Kew Gardens, and the National Trust Greenhouse Collection.
For more information about Alitex see Alitex or contact us.
Italian Terrace
Italian Terrace designs and produces exceptional handcrafted terra-cotta vases, oil jars, statuary, and plaques.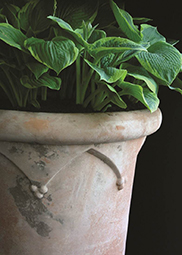 A blend of superior Italian clay, traditional hand press methods, and high temperature firing in modern gas kilns result in pots mellow in color, weathered in texture, and durable in strength.
Italian Terrace designs and produces terra-cotta as it should be-exceptional in function and form, color and texture. The brand is synonymous with quality and style. Its vases and jars are chosen time and again by world-class designers for prestigious estates and homes around the world.
Stock is available worldwide. Learn More.
David Harber
A world-renowned English artist, David Harber creates beautiful sundials, striking outdoor sculptures, and water features made only from the highest-quality materials such as bronze, mirror-polished stainless steel, and stone.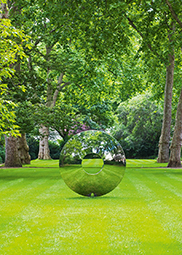 His work displays a masterful balance of classical English romance, ancient scientific principles, and contemporary simplicity creating timeless and elegant designs.
Each of Harber's pieces is hand built using both traditional and modern techniques by expert craftsmen in his Oxfordshire studio; he personally oversees every single piece. He still gets his hands dirty, too!
Pieces by David Harber are included in collections around the world, from private gardens and palaces to corporate headquarters and public art locations. Recent U.S. clients of note include ESRI, Princeton University, and Lakeland Trust and Investment Bank Chicago, to name just a few.
Harber's international presence continues to build year by year, with about 50 percent of his work now being shipped abroad. The United States is quickly becoming his largest client base.
This means that we have now amassed a wealth of experience and contacts that make commissioning and installing a David Harber piece in the United States a breeze. We would be delighted to discuss any requirements you may have no matter how early stage your inquiry.
Visit the Perfect Garden Group at the 2013 ASLA Annual Meeting and EXPO at booth 1854.