10/22/2013
Product Profile: Aquamaster Horizontal Masters Series
There was a pond at Canon USA in Jamesburg, New Jersey, with a water level that would decrease during dry periods below the minimum three-foot operating depth of the standard (vertical) Masters Series® of fountains that are available in a wide variety of spray patterns.

This would cause the fountains to lift to one side, distorting the spray pattern, and if left like this it could cause damage to the motor. At this point, the fountains were turned off until the water level increased to where they could be turned on again, which could be weeks or even months.
In an effort to keep the fountains running through these shallow water periods, the fountains were retrofitted to AquaMaster® Horizontal units with Valhalla nozzles. The standard Masters Series® can easily be retrofitted in the field to the Horizontal Masters Series, or they can be purchased new in the horizontal configuration. The 1-5HP Horizontal Masters Series has a minimum operating depth of 16 inches. It also comes with a large stainless steel intake screen since it will be running in shallow pond applications.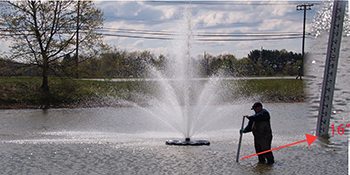 The only requirement for the Horizontal Masters Series is that a Straightened Flow Pattern (SFP) or an Adjustable Straightened Flow Pattern (ASFP) nozzle must be used with it.
See all Aquamaster products online.