10/21/2013
Coming Up: ArchitectureBoston Expo
Tuesday, November 19-Thursday, November 21
Boston Convention and Exhibition Center
Produced by the Boston Society of Architects (BSA)

Same city, same venue, more great people. Show your ASLA EXPO badge at ABX and gain free admission to the exhibit hall.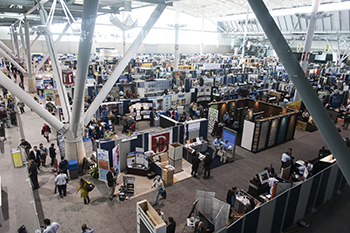 ABX is New England's largest building industry event and takes place right after the ASLA EXPO. Attracting more than 8,500 A/E/C industry professionals, the show floor hosts 400 exhibitors, an Innovation Pavilion, the BSA's Design Gallery, a 3-D Printing Pavilion, and much more.
The conference program features tracks such as Resiliency, Urban Boston, Urban Universal, and Business Development, addressing issues of landscape architecture and design, sustainability, and best business practices.
Some notable workshops include:
Phytotechnologies: Using Plants to Clean Up Contaminated Sites
Tuesday, November 19, 8:00-9:30 a.m. | HSW
With Kate Kennen, ASLA, of Offshoots
Building with Bugs: The Dirt on Compost Tea
Wednesday, November 20, 8:00-9:30 a.m. | CR
With Emily Mueller De Celis, ASLA, of Michael Van Valkenburgh Associates; Eric Fleisher of Battery Park City Parks Conservancy; and Wayne Carbone of Harvard University   
Landscape Urbanism: Understand It Within Its Context
Thursday, November 21, 8:00-9:30 a.m. | CR
With Erik Bednarek, ASLA, of the Cecil Group; Kathy Bradford of Bioengineering Group; Jessica Leete of the Ager Group; and Linda Jonash of the Rose Fitzgerald Kennedy Greenway Conservancy   
Brigham Green: Recreating a Healing Landscape for the 21st Century at Brigham & Women's Hospital
Thursday, November 21, 1:00-2:30 p.m. | HSW
With Joseph O'Farrell of Partners Real Estate and Facilities; Michael Roughan of HDR Architecture; and Cynthia Smith, FASLA, of the Halvorson Design Partnership   
Register by October 31 for the best workshop prices. Use promo code EXPO13 for free admission to the exhibit hall to avoid lines at registration.
Learn more about the workshop details and register.