10/8/2013
Sponsor Spotlight: Nemetschek Vectorworks
Create a better built environment with Vectorworks Landmark Software.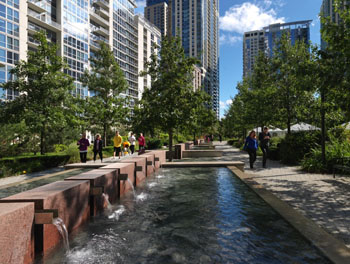 Corporate headquarters, a  hospital, or an urban park -- The Office of
James Burnett (OJB) strives to create environments that people use
and enjoy on a daily basis. Chicago's Park at Lakeshore East is one
of those truly memorable places and was completely designed from
schematics to construction documents with Vectorworks Landmark
software. Courtesy of James Steinkamp, Steinkamp Photography,
and the Office of James Burnett. 
Whether you are transitioning from hand drawing to a CAD solution, or from a general CAD application to a site design solution, Vectorworks® Landmark software has the versatility to handle every step of the process. With Vectorworks Landmark, you can produce 2-D and 3-D concepts, analyze the pre- and post-development site conditions, and create construction documents with intelligent, built-in objects, powerful databases, and flexible documentation features.
Integrated 2-D/3-D Design Environment
Vectorworks Landmark is among the ultimate tools for site design professionals. Its intuitive interface lets you create dynamic 2-D and 3-D designs, incorporate accurate landscape plans, and help clients visualize your plans…easily, accurately, and efficiently. Once you unlock our suite of precision drawing tools and intelligent landscaping and site design objects you'll be well on your way to laying out plans, elevations, sections, and detail drawings. If you prefer working in 2-D, the application provides superbly rendered plant symbols, hardscape patterns, customizable line types, and many other objects and features.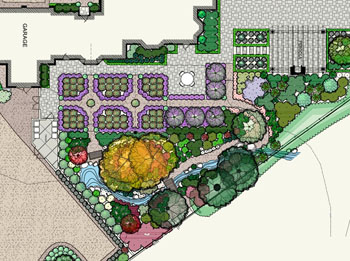 Choate Associates enjoys the ability to customize the graphic settings
of their landscape features to convey their firm's high visual standards
and clearly communicate their design intent. Courtesy of
Choate Associates.
For design professionals transitioning their work flows to include modeling, the 3-D design environment enables you to freely sculpt your vision while using intelligent building and site-specific objects. These objects, including Wall, Site Model, Plant, Existing Tree, and Hardscape, bring the design to life for a virtual understanding of how your client's project will be implemented and realized, and how they will impact the site.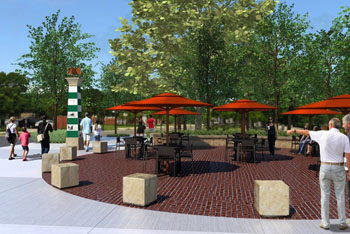 Whether using a photorealistic style as seen in this 3D perspective
view, or the many artistic styles within Vectorworks Landmark with
Renderworks, the designer can visualize and present their proposed
space all within the same program. Shown here is a rendering of
Dayton's Patterson Canal Corridor. Courtesy of CYP Studios and
MorrisTerra.
And you can take your designs a step further with our integrated rendering application, Renderworks®. Renderworks provides sophisticated photorealistic and hand-rendered effects, as well as solar animations. Whether your objective is realistic or artistic visualization, you can create stunning presentations to help sell your ideas. In addition, the software's sketch rendering options let you automate and maintain your signature, hand-drawn presentation style without sacrificing accuracy.
Material Schedules, Calculations, Plant Lists, and More
The intelligent objects in Vectorworks Landmark carry data for more than just automated graphic identification. The information can be collected and viewed in dynamic spreadsheets, known as database worksheets, for creating schedules, reports, and lists, or for analyzing quantities of specified objects. Plant lists, with or without symbols, material take-offs, and technical calculations such as water budgets, are all made easier with the power and intuitive nature of the worksheets.
Vectorworks Landmark also provides site-related analytical tools for water flow, slope categories, cut and fill, and sun/shade placement. For example, you can design for a client's specific request for shade, validate whether proposed slopes can be mowed, and even verify if grade changes will result in soil being carried onto or off the site. In other words, you don't need to ask another professional to do these studies for you.
Plus, there is a growing plant database with more than 4,900 plant records, featuring more than 3,000 plants from leading plant grower Monrovia®. There are also landscape-specific resource libraries that feature furniture, outdoor equipment, lighting, and irrigation objects.
 "Vectorworks Landmark makes the actual drawing process intuitive and smart, meaning we can spend more time being creative and designing and less time drafting or redrawing. This is a giant competitive advantage for us and lets us achieve notable results."

—Emily Rogers, ASLA, Project Manager and Landscape Designer, Graham Landscape Architecture

Vectorworks Landmark 2014 Is Here
Balancing your design process and your technological needs just became even easier because Nemetschek Vectorworks recently released Vectorworks Landmark 2014. Here are just a few of the new capabilities and improvements you can explore in the new release:


Plan Drop Shadow Improvements: Though Plant Shadows themselves are not new in Vectorworks Landmark, the control of drop shadows on both Plants and Massing Models by Document Settings is. Providing a more consistent treatment of drop shadows for plant and massing models occurs by a set length of shadow or a factor of the object's height. Individual object control of drop shadows can still be maintained if the designer so chooses.
Modify by Record Improvements: Perfect for transforming flat GIS Shapefiles into 3-D models of a site's surroundings, the Modify by Record tool has been expanded to convert 2-D data rich polygons to 3-D polygons, enabling the designer to quickly form their modeled terrain on which their 3-D buildings created from 2-D GIS footprint polygons could sit.
Massing Model Improvements: The intelligent Massing Model just became smarter with opportunities to append floor usage data for each floor within these building objects. A site design professional doing land use plans can now use the smart building objects to help discern total site use area calculations for code compliance where usage data drives site design, such as in parking and open space requirements.
Exclusive Content for Vectorworks Service Select Members
Vectorworks Service Select is a subscription agreement that helps customers maximize their investment in Vectorworks software. The program provides several added benefits, including immediate receipt of product releases, the best pricing, predictable budgets, priority technical support, VIP access to downloads, easy account management, and access to a growing library of on-demand learning tutorials. Landmark users in this program will also enjoy newly added content that they can incorporate into their designs, such as:
Vb Visual Plants
Greenscreen® Trellis System
2-D Site Details
Tile Pavers
Tile and Stone Fills
Landscape Rocks and Boulders
2-D Foliage Elevations
Jacksons Fencing
Landscape Forms
Site and Parking Lighting.
Learn More at ASLA 2013
To see firsthand how Vectorworks Landmark could be the versatile design solution that helps take your designs to the next level, visit us in Boston at the ASLA 2013 EXPO. We'll be exhibiting at Booth #2114.

You can also learn more about our software at www.vectorworks.net/landmark and be inspired by some of the compelling designs created by our users by reading our user success stories.