10/7/2013
Sponsor Spotlight: Forms+Surfaces
Forms+Surfaces site furniture products are recognized worldwide for their innovative designs, solid construction, and high-performance green materials and finishes. Built to face the challenges of real-world use, Forms+Surfaces benches, bike racks, litter and recycling receptacles, and outdoor lighting can be found in public spaces of all kinds.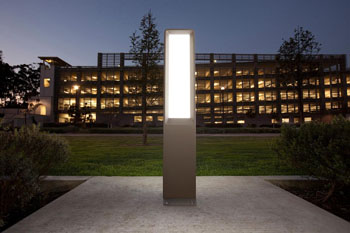 The company is now announcing the newest addition to its Tangent family of products: a cast aluminum edge-lit LED bollard. The bollard joins a line that already includes rail seating and table ensembles in a wide range of configurations, and echoes the group's clean aesthetics and modern style.

Tangent Bollards offer the latest in edge-lit LED technology without the bulk of more traditional designs. A narrow bollard with wide appeal, Tangent's slender profile and translucent lens give it a sophisticated look that's as beautiful by day as in the dark of night.

Construction Details
Bollard body and base are corrosion-resistant cast aluminum with a durable powder-coat finish. Standard powder-coat colors are Aluminum Texture, Argento Texture, and Slate Texture. Optional colors from the Forms+Surfaces powder-coat color chart and custom RAL colors are also available.

Rectangular openings in the bollard body frame the edge-lit LED light panel. The light panel is visible from both sides of the fixture.

Light Panel: LED Light Engine, Lens, and Diffuser
The edge-lit LED light panel consists of the LED light engine, lens, and diffuser. The LED light engine is powered by Osram chips. The edge-lit lens is made of a light-conducting PMMA with embedded diffusing particles that orient and emit light evenly across the face of the material.

Tempered glass diffusers are located on either side of the lens. Diffusers have a very finely etched surface. An optional shield can be specified on one side of the lens to create directional light distribution. Standard and custom shields are available.

Bollards use an electronic driver with overcurrent and overvoltage auto recovery, 90–305V, IP66 rated, -30 ̊ C starting temperature; Class A sound rating.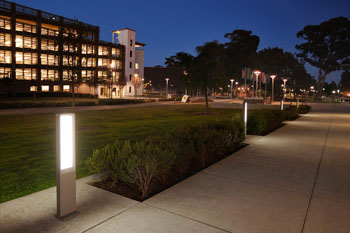 Installation
Tangent Bollards are designed for surface mounting using four tamper-resistant bolts.

Certification
The Tangent Bollard is ETL listed for wet locations.

Environmental Considerations
All Tangent Bollard metal components have a long life cycle and are 100 percent recyclable. Standard powder-coat finishes are no VOC; nonstandard powdercoat finishes are no or low VOC, depending on color.

Tangent Bollards are just one of Forms+Surfaces' many outdoor lighting [http://www.forms-surfaces.com/outdoor-lighting] solutions for public spaces [http://www.forms-surfaces.com/projects]. To learn more, visit www.forms-surfaces.com, call 800-451-0410, or fax 412-781-7840.