9/9/2013
People
Announcements
In August 2013, Lake Douglas, ASLA, associate professor and undergraduate coordinator in LSU's Robert Reich School of Landscape Architecture, joined Dean Alkis Tsolakis and Associate Dean of Academic Services Tom Sofranko as associate dean of research and development at the LSU College of Art & Design.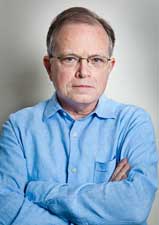 Lake Douglas, ASLA
Traditionally, the College of Art & Design has supported two associate deans: one whose focus is internal, on academic services in the areas of recruitment, retention and advising students and faculty; and the other whose focus is more external, working to assist, facilitate, and encourage faculty in their respective areas of research and to expand the college's development opportunities. The associate dean of research and development position has been vacant since 2009, when Stuart Baron left to become president of Delaware College of Art & Design. The position was left unfilled due to the significant budget cuts that occurred at the same time.
Douglas' appointment as associate dean of research and development is timely in that it allows the college to focus on its goals in the areas of discovery, learning, diversity, engagement, and productivity – goals based on the implementation of the university's strategic plan, LSU Flagship 2020.
Douglas' own professional work, publications and research reflect a diversity of interests. His dissertation research involved horticultural commerce as an agency of community growth, and his current research involves documenting 18th- and 19th-century urban life in New Orleans through the development of public and private open spaces. His other areas of interest include community enhancement through cultural development, using research skills to inform design strategies, and the development of communication skills through effective writing.
 As associate dean, Douglas' development responsibilities include expanding the off-campus influence, presence, and visibility of College of Art & Design faculty and students by creating partnerships with statewide organizations in other cities for internships and seminars; investigating opportunities to create partnerships with state and local government agencies; and working with each unit of the college to develop longstanding relationships with design offices for student internships.