9/9/2013
Chilean Delegation Attends Meeting at ASLA Headquarters
Benefits of urban parks among discussion topics.

ASLA Executive Vice President and CEO Nancy Somerville, Hon. ASLA, hosted a September 4 meeting with a delegation from Chile that included Minister of Housing and Urban Development Rodrigo Pérez Mackenna. Representatives from the U.S. Department of Housing and Urban Development and city park experts also participated.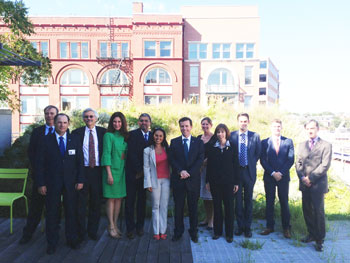 Chilean delegation and ASLA CEO Somerville.
The meeting included a discussion on park design, innovative financing, and maintenance, as well as the benefits of urban parks and how good park design has catalyzed economic development in cities across the U.S. The meeting participants also toured the green roof at ASLA's headquarters in Washington, D.C.
Minister Pérez was appointed by President Sebastián Piñera as minister of housing and urban development in 2011. In that role, he leads the Chilean government's efforts to improve housing and urban ministry policies and oversees the six-region reconstruction of 220,000 houses severely damaged by the 2010 earthquake and tsunami. In 2012 President Piñera also appointed him as minister of national assets.