8/8/2013
An Olmsted in His Own Right
By Eric Tamulonis, ASLA
Principal, WRT | Wallace Roberts & Todd, LLC

Frederick Law Olmsted Jr. Symposium: Inspirations for the 21st Century

On October 10-11, planners, landscape architects, scholars, and park stewards will convene at the National Building Museum in Washington, D.C. to examine the legacy of Frederick Law Olmsted Jr. and his relevance to today's practice of landscape architecture and planning.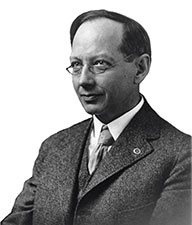 Sponsored by the National Association for Olmsted Parks, part one of a two-part symposium will focus on Olmsted Jr.'s eastern legacy, followed in March 2014 by a San Francisco symposium exploring his western work. These two symposia will be useful in describing both the historical context of Olmsted Jr.'s work, but perhaps more importantly, how it continues to affect contemporary practice.
Olmsted Sr. has cast such a long shadow over his sons that thoughtful consideration of their contributions has been largely eclipsed. Often overlooked is the fact that
Frederick Law Olmsted Jr.
himself was a major force in professionalizing landscape architecture and the early years of the planning profession in the United States.
In a field for which it is fashionable for some to shrug off the legacy of the elder Olmsted, the relevance of Olmsted Jr.'s work to today's practice is also underestimated. However, just as Olmsted Sr.'s work remains unavoidably relevant due to his prescient embrace of what we now call "green infrastructure", we owe it to ourselves to consider Olmsted Jr.'s legacy because of his aggressive spirit of innovation and broad-ranging impact within the context of his time, when landscape architecture was in its formative years.
Olmsted Jr. practiced at all scales: from site to region, designing campuses, neighborhoods, estates, and other project types. It may be that Olmsted Jr.'s legacy is most meaningful now at the larger scale, which we define as landscape planning, and through his organizational and policy work that has shaped the profession. His work in shaping large landscapes, cities, and regions remains of vital interest, and Olmsted Jr. earns a place alongside such leaders of the day as Elliott, Nolen, and Manning, who were also practicing at the citywide scale.
The symposia will explore Olmsted Jr.'s work on park system plans for Washington, D.C., Baltimore, Louisville, and Birmingham, as well as the California State Park system, and how it continues to shape these areas today. At the broadest scale of influential policy making—in addition to his early work with ASLA and APA—one of Olmsted Jr.'s most enduring contributions to the national landscape, and to a larger world movement of national parks, remains his wording on the National Park Service's enabling legislation, the 1916 Organic Act. These words have survived innumerable challenges, and continue to guide every action of the NPS today: "…to conserve the scenery and the natural and historic objects and the wild life therein and to provide for the enjoyment of the same in such manner and by such means as will leave them unimpaired for the enjoyment of future generations."
Register today!
Continuing education credits: 8.0 LA CES (ASLA); 8.0 LU HSW (AIA); 8.0 CM (AICP)