7/29/2013
People
An Appreciation
by his daughter, Diana Cheifetz
Satoru Nishita, FALSA, known as "Sat", passed away peacefully on July 16 at his home in Walnut Creek, California, with his beloved wife, Yuriko ("Yuri") by his side. He had had a long and illustrious career as a landscape architect and environmental designer, working on projects as far away as Japan and Kuwait, and as near as Jack London Square, and the UC Davis campus.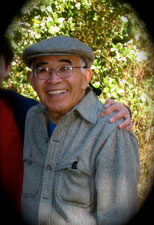 A work-hard, play-hard kind of person, he loved nature, Nat King Cole, and strawberry ice cream. He was especially proud of his family and delighted in the accomplishments of his grandchildren. Though health issues were challenging in his later years, he continued to enjoy natural surroundings, good food, and his family – and never lost his passion for environmental sensitivity and beauty.
Sat was born and raised on farms in Castroville and San Juan Bautista, California, where his parents grew garlic. During World War II, as a teenager, he and his family were interned in Poston, Arizona. Though he saw the relocation and internment experience as a grave injustice, he also said it allowed him, as a young farm boy, to see and meet Japanese Americans who were doctors, engineers, and architects - individuals in all different fields – and it opened up new possibilities in his own mind for himself.
He graduated from high school in the internment camp, eventually working for Chicago Allied. He then served in the United States 6th Army Medical Corps, attaining the rank of sergeant. On the GI Bill, he attended UC Berkeley, where he graduated with a BS in Landscape Architecture in 1951. He married Yuriko Kumamoto that same year. Sat was one of Lawrence Halprin's earliest employees. He later formed CHNMB Associates, and then after that, Nishita & Carter Inc. with his lifelong friend and colleague, Donald Carter.
His ASLA Fellowship nomination included these words: "Satoru Nishita has produced a body of work of superior quality…His work has earned him a worldwide reputation and has established him as an outstanding member of the landscape architecture profession." A tribute to him can be found on
The Cultural Landscape Foundation website
detailing more about his life, work, and accomplishments.