ASLA Hosts 4th Annual Advocacy Summit
7/16/2013Leave a Comment
ASLA Chapter representatives gathered in Alexandria, Virginia, for the Annual ASLA Advocacy Summit. This year's two-day summit was focused on planning for a successful advocacy future. ASLA Vice President of Government Affairs Chad Danos, FASLA, citing the Louisiana Chapter's experience, kicked off the proceedings with a reminder on the importance of planning to ensure a successful chapter advocacy program.
Day One featured an in-depth briefing on professional deregulation and drivers of change in a dynamic regulatory environment. Attendees were given perspective on how organized efforts nationally are leading to drastic changes to licensing in the states. Attention then focused on how to anticipate and counter threats to deregulation. The Michigan Chapter (MiASLA), currently fighting off legislation that could deregulate the profession, offered tools and tips to help other chapters prepare for potential threats in their jurisdictions. Bill Sanders, ASLA, and Derek Dalling, Affiliate ASLA, shared strategies and action items that MiASLA used to plan, and implement, a comprehensive advocacy response to the threat to their licenses.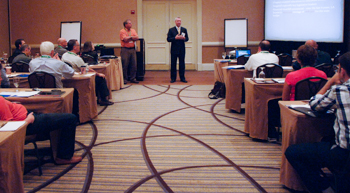 Advocates focused on tools to help prepare their chapters to plan a lon-g and short-term strategic advocacy plan. Idaho/Montana Trustee Jolene Rieck, ASLA, walked attendees through the process that the Idaho/Montana Chapter undertook to craft their chapter's strategic plan as well as a detailed advocacy plan. Attendees took the lessons learned and applied them to their own experiences during a breakout session intended to give advocates time to start to craft their own strategic plan. The day culminated with breakout sessions that asked attendees to use the lessons learned and their own creative process to create advocacy strategies on a series of five hypothetical scenarios.
Day Two of the Summit continued with the theme of Advocacy Planning. Derek Dalling, Affiliate ASLA, was on hand to talk about retaining and working with a lobbyist, a topic of interest among many attendees. Dalling was able to shed light on issues such as cost, scope of work, and contracting with a lobbyist.
Many thanks to the attendees for sacrificing a summer weekend in the pursuit of building their chapter advocacy programs.
For more on state advocacy and licensure defense visit
www.asla.org/advocacy
.