Public Awareness Representatives Take to the Streets During Summit
7/16/2013Leave a Comment
The third annual Public Awareness Summit, held July 12-14 at the Hilton Alexandria Old Town in Alexandria, Virginia, proved to be an energizing event that provided public-relations training, lively discussions, and hands-on activities. Forty-seven of the 49 ASLA chapters sent representatives (Alaska and Virginia had to drop out).
As part of the agenda, the participants divided into teams and explored prominent D.C. landscapes. They documented their explorations using ASLA's social media accounts, including
Twitter
,
Facebook
,
Pinterest
,
Instagram
,
Tumblr
, and Vine (including
here
,
here
, and
here
).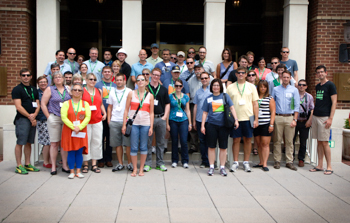 Several Public Awareness representatives presented their success stories for the Year of Public Service campaign, including Dalton LaVoie, ASLA Sierra; Brian Staresnick, INASLA; and Melissa Evans, Arkansas ASLA.
Speakers at this year's event also included Josh Lamangan, manager of chapter/member services at ASLA; Emily Linroth, communications specialist and community planner, National Park Service Conservation and Outdoor Recreation programs; and Steven Shulman, executive director of Cultural Tourism DC.