2013 Diversity Summit Sets Direction for the Year
7/16/2013Leave a Comment
 by Heidi Petersen, Student ASLA, ASLA summer intern

Landscape architecture is a minority profession. The U. S. Bureau of Labor currently estimates that only 21,600 people are employed within it, and landscape architects frequently find themselves outnumbered in professional settings by architects, planners, and engineers.
On top of this, the demographics within the landscape architecture profession don't match the demographics of the country in terms of its racial and ethnic diversity. Census data projections show that the growth rates of both the African-American and Latino populations are increasing at faster rates than those of white Americans, even while the number of African-American and Latino graduates of landscape architecture programs remains not only stagnant, but low and way below the national levels.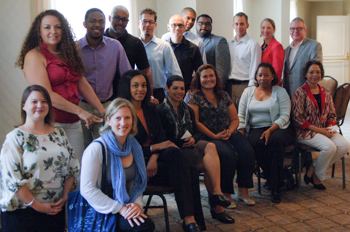 To address this, ASLA inaugurated a Diversity Summit July 12-14 in Alexandria, Virginia, to review the experiences some of the profession's Latino and African-American members. The six Latino and six African-Americans participants of this Diversity Summit, which was held in conjunction with the Public Awareness and Advocacy Summits, were tasked with identifying the pathways, hurdles, and aids they encountered on their way to discovering the profession, working through a design education, and finally as emerging professional landscape architects. The goal was to provide ASLA with action items it can use to help diversify the landscape architecture community while simultaneously raising the profile of the profession.

Through the generous sharing of their personal stories, common themes emerged. As with the profession generally, a lack of awareness and a related misunderstanding of the profession were commonly cited as major obstacles to minority involvement. Either they simply didn't know that being a landscape architect was an option for them as they started their college studies, or they were dissuaded by teachers, family members, or negative cultural perceptions of the profession.

A lack of mentors, and specifically mentors that looked like them, was discussed. Mentoring at all levels is seen as a critical component to the successful inclusion of diverse members in the profession. Students in elementary, middle and high schools need mentors to direct them towards a higher education in landscape architecture; students working towards their landscape architecture degrees need mentors to support them during the rigors of a design education; and emerging professionals need mentors to guide them in the crucial period immediately after graduation and during the first few years of working.

Recognizing that early exposure to the profession will capture the imagination of children as they consider what they want to be when they grow up, the importance of the introduction of kids to the idea of designed spaces, "a landscape architect did this," was seen as especially important in expanding diversity. Strategies for working on these three main action items - awareness, mentoring, and early exposure – were suggested as the end result of the meeting. ASLA is committed to acting on strategies to address the issues the Summit attendees raised, which will ultimately enrich the landscape architecture community.
Juanita Shearer-Swink, FASLA, facilitated the discussion. The participants were:

C.L Bohannon, ASLA
Wesley Brown, Assoc. ASLA
Anita Bueno, ASLA
Jessica Centeno, Assoc. ASLA
Domini Cunningham, Assoc. ASLA
Ricardo Garcia, ASLA
Luis Gonzalez, ASLA
Mike A. Hill, ASLA
Janelle Johnson, ASLA
Tammy Martin, Assoc. ASLA
Margarita Padilla-Posey, ASLA
Jose M. Rodriguez, ASLA