5/31/2013
Fore! ASLA Once Again Hits the Course
The National Building Museum in Washington, D.C., has brought back its popular indoor miniature golf exhibition, and ASLA has once again worked with Virginia Tech students at the Washington–Alexandria Architecture Center to create one of the holes. Jason Granado served as lead on the project, working with Jaeeun Cho; Brian Green, Student ASLA; James Hanger, Student ASLA; and John Whilden, Student ASLA.
Last year, the 12-hole course attracted wide media attention and some 27,000 players. This year, the expanded attraction features two nine-hole course options, with all new holes designed and built by leading Washington-area architects, landscape architects, designers, and contractors. The courses explore the designers' visions of "Building the Future"; ASLA's entry, "Tomorrow's Water," simulates the flow of water into D.C's rivers while signage explains the profession's role in water management. Visitors to the museum will be able to play during museum hours from Memorial Day (May 27, 2013) to Labor Day (September 2, 2013), one month more than last year.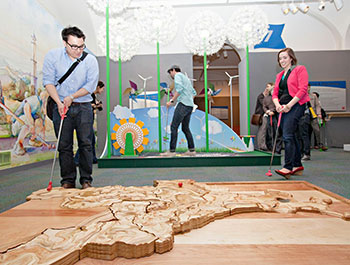 ASLA's minigolf installation

Photo courtesy of Anne McDonough Photography 
In addition to the original minigolf holes custom-designed for the course, the installation features displays of selected items from the museum's collections. The walls of the minigolf space will be enhanced by a custom mural by the museum's senior graphic designer. Also, visitors' knowledge of the history of miniature golf will be tested with fun facts sprinkled throughout the course.
Visit www.nbm.org for more information or call 202-272-2448. And drop in and play a round if you visit D.C.!