4/2/2013
Firms Sought to Help Introduce Profession to Minority Students
Initial pilot effort among ASLA, the National Park Service, and the Student Conservation Association will focus on the Northeast.

The American Society of Landscape Architects (ASLA) is working with the Student Conservation Association (SCA) and the National Park Service (NPS) to launch an initiative introducing the fields of landscape architecture and historic preservation to minority youth and recent high school graduates.  
The collaborative initiative will increase exposure of the fields to underrepresented teens and offer a pathway to academic preparation, additional field experience and future employment.
For 2013, ASLA would like to identify members and firms willing to partner with a SCA community crew with the basic expectations of:
A site visit in the field with the adopted SCA crew(s)
Hosting a crew visit at their offices to expose the teens to the professional environment and a complete view of the landscape architecture profession in action.
Other possibilities include working with the SCA crew on site evaluation and project design or advising on plant selection and placement. The specifics of each partnership will be determined in consultation with the respective SCA Community Program coordinators. In addition to each region's Community Program coordinators, every crew of teens has two adult crew leaders.

For 2013, ASLA seeks to match landscape architects and firms with SCA community conservation crews in five Northeast program areas: Washington, D.C.; Philadelphia; New York City; southwest Connecticut; and Boston. Initially focused in the Northeast, the 2013 pilot program will provide a model for future nationwide implementation.

While SCA and ASLA focus on exposing underrepresented, urban teens to landscape architecture and historic preservation, the SCA and NPS are expanding entry-level internships for high school graduates. SCA already offers numerous internships that require higher-level skills. Additional entry-level opportunities will help bridge the pipeline of interested candidates emerging from the ASLA-SCA collaboration at the high-school crew level to SCA's subsequent, pre-professional opportunities.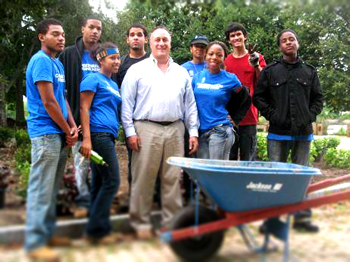 ASLA President Tom Tavella, FASLA, has worked with students in Connecticut, and will again.
Roles and Responsibilities: Landscape Architects and L.A. Firms (ASLA members)
By collaborating with their respective crews of approximately 10 15-18-year-old teens, ASLA members will introduce underrepresented youth to the field, related skills, and career opportunities. The SCA community programs use a SCA-developed Green Jobs Readiness Curriculum that includes ecological literacy and career exposure, delivered in the context of field projects and weekly environmental education days. The crew partnership with ASLA members may support those above mentioned goals, as well as goals for understanding conservation history, leadership development, project/field skills, and project management. The specifics of each crew partnership will need to be determined with the respective SCA Community Program leadership.
The basic parameters: Specifics to be arranged with respective crew leadership.
July 8 - August 16 = SCA community conservation crew season
Environmental Education Days are weekly, typically Fridays, but can be adjusted to fit crew or ALSA members' schedules
Four project days per week.
Field projects vary, but often include elements of trail layout and builds, constructed wood and rock features, water and erosion management, invasive plant mitigation, planting of trees and native plants.
Plan one or two interaction opportunities with the crew members
Initial contact with SCA staff by May 1.
Locations and Number of Crews to be adopted:
Boston: 4
Connecticut: 5. Bridgeport – Firm volunteer lead, ASLA President Thomas R. Tavella, FASLA, Fuss & O'Neill; New Haven; Norwalk; Stamford; Greenwich.
New York City: To be determined
Philadelphia: 4
Washington, D.C.: 5
Step up! If you are interested in learning more or being considered to join the effort, send an email to ASLA Director of Public Relations and Communications Terry Poltrack, tpoltrack@asla.org, with a primary contact name, email, and telephone number; firm name; street and city address; and any information to be considered in matching firms to opportunities.