4/1/2013
Product Profile: Kichler Landscape Lighting
From the latest, intelligent LED options to traditional incandescent choices, the complete professional landscape lighting collection from Kichler delivers a range of options with uncompromising reliability. Leading the way is the Kichler'® Design Pro LED series, which expanded to every outdoor lighting application, including decorative path and spread, low-profile hardscape, water-feature, deck, and accent lighting. Kichler's growing Design Pro LED line also offers the optimum form and function: Every fixture is built to deliver beautiful, pure white, natural lighting effects and is engineered for maximum all-weather performance. Of course, all Kichler fixtures offer installation-friendly features that add ease to the project without compromising performance. 
Kichler added a deeper and broader offering of accent and in-ground lights to its popular Design Pro LED line of professional-grade landscape lighting that delivers more lumens per watt for even greater energy efficiency. With a range of color temperature choices and a variety of beam spread options to put light where you want it, Kichler's newest, fully-featured Design Pro LED 12V Accent and In-Ground Lights and 120V Accent Lights are a great choice for any landscape lighting job.

"Landscape lighting professionals have embraced our low voltage Design Pro LED Lighting Systems and will be wowed by our 120V technology with new Radiax™ optics," says Jeff Dross, Kichler's corporate director of education and industry trends. "Radiax optics, a Kichler design exclusive, drives increased output from LED chips for better performance."

Radiax optics are available in two forms – side-powered on larger fixtures and center-powered on smaller ones. Both designs result in precise, powerful, and efficient landscape lighting, and offer the greatest lumens per watt.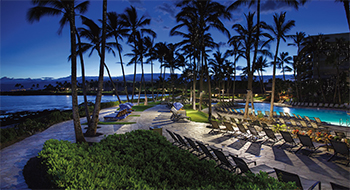 An array of 12V accent Kichler Landscape Lighting products were used in Hilton Waikoloa's lighting design.

Click here

to learn how Kichler helped the Hilton Waikoloa with a very cost-effective LED Landscape Lighting Solution tailored to their needs.
Kichler's new Design Pro LED systems with Radiax are available in a range of Kelvin (K) temperatures – 2,700 K warm white, 3,000 K pure white, and 4,250 K cool white – for the perfect light effect for every job. Tight manufacturing tolerances ensure greater color consistency, and every unit is sealed and fully potted to protect it from weather elements for optimum performance year after year.

With a 40,000-hour life-span and an unmatched 15-year residential warranty, the new Design Pro LED Accent Lights feature an integrated cowl for glare-control and come in three sizes: small (12V), medium (12V and 120V), and large (12V and 120V), as well as a cast brass in-ground (12V) light fixture. Ideal for use with any architecture, the accent lights are available in long-lasting Textured Architectural Bronze™ and Bronzed Brass finishes. The 12V Accent Lights are also available in black, beach, and white finishes. Accessory lenses in amber, green, or frosted are available for more customized lighting colors.

Kichler is The Premium Choice in Landscape Lighting™. A leader in energy-efficient technology, Kichler's line of Design Pro LED fixtures feature several winners of the Lighting for Tomorrow Award, sponsored by the Consortium for Energy Efficiency, the U.S. Department of Energy and the American Lighting Association.

Kichler's landscape products can be purchased through authorized lighting distributors, landscape and irrigation wholesale distributors, electrical wholesale supply, and independent lighting showrooms nationwide.

View Kichler landscape products, as well as interactive electronic catalogs, at www.landscapelighting.com.