3/18/2013
Modernist Garden Dialogues Destinations for April 2013
Landscape architecture that complements modernist buildings figures strongly in the Cultural Landscape Foundation's April slate of Garden Dialogues, a program that enables participants to have a leisurely visit to a private garden where they hear from the owner and landscape architect about the collaborative process.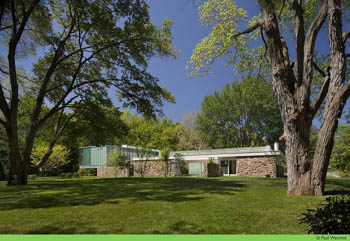 Breuer House by Quennell Rothschild - photography by Paul Warchol
Marcel Breuer's restored 1951 home in New Canaan, Connecticut, with a new two-story addition by architect Toshiko Mori, features garden experiences designed by Quennell Rothschild that move across the three-acre landscape. The design used mature trees, while existing paving and walls were edited, restored, and added, maintaining a seamless connection between the original architectural fabric and the current owner's additions. Gardens include paved and planted courtyards, a swimming pool, and a pool house.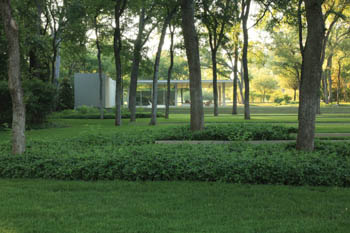 Beck House by Reed Hilderbrand - photography by Alan Ward 
The Philip Johnson-designed Beck House in Dallas, a theatrical showcase for entertaining, features what the New York Times calls a "subtly luxurious landscape" that gives "the house a context that it never really had before." The garden, designed by Reed Hilderbrand, demonstrates landscape architecture's capacity to integrate material conservation of an architectural project through more direct engagement of the visual, spatial, ecological, horticultural, and domestic characteristics of the site.

In Los Angeles, Lisa Gimmy has created a horticultural sculpture garden for a classic modernist pavilion. The sinuous forms of large succulents punctuate the space, and bold masses of kangaroo paws and ornamental grasses provide dramatic seasonal color. In addition, a stacked stone fire pit in a wind-sheltered entertainment area offers exceptional panoramic views.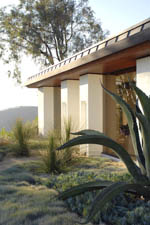 Los Angeles House by Lisa Gimmy - photography by Jack Coyier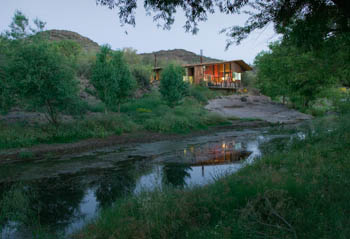 Pond House by Jim Coffman - photography by Bill Timmerman
Pond House, a contemporary home in Phoenix designed by Jim Coffman, features an award-winning, five-acre site that straddles Cave Creek and is precisely designed not to look designed. A carefully orchestrated palette of native plants, willows, and cottonwoods complements the wood, rock, and steel of the home's clean architectural forms.

Garden Dialogues will be held in three dozen locations nationally from now through August; complete details here.