3/5/2013
ASLA Sessions and Parklets Huge Hit at Smart Growth Conference
 Recently, ASLA participated in the 12th Annual New Partners for Smart Growth: Building Safe, Healthy, Equitable, and Prosperous Communities in Kansas City, Missouri. This year's conference included nearly 100 diverse sessions with information and tools for attendees to take home to create healthier, economically viable, livable communities. This year, ASLA and landscape architects enjoyed a greater presence during the conference. By underscoring that smart design is essential to Smart Growth, ASLA hosted some of the most popular education sessions and installed five well-received parklets located throughout the conference center.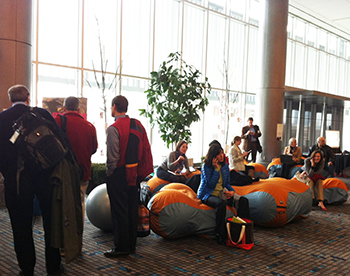 The Bubbleway inflatable social furniture system provided by Rebar Studio in San Francisco created an amoebalike, soothing fun, and colorful appearance with this parklet designed by Chris Cahalan, ASLA, and Korey Schulz, ASLA, of Ochsner Hare & Hare.
Professional Practice Manager Dena Kennett, ASLA, was a member of the conference's national planning committee. Spotting a trend in seeking and selecting sessions that dealt with physical design, Kennett seized the opportunity to highlight the contributions of landscape architects to community design. Building on a panel discussing the parklet revolution that included John Bela, ASLA, principal of Rebar Studio in San Francisco, and city planners from San Francisco and Philadelphia, Kennett organized the installation of five parklets to make the concept of parklets tangible to all attendees. The parklets were a huge hit, with significant credit going to the ASLA Prairie Gateway Chapter, which immediately embraced the opportunity to demonstrate their creativity and design skills to this multidisciplinary audience. The parklet design teams were led by Cale Doornbos, ASLA; Matt Evett, ASLA; Kris Smith, ASLA; Jim Schuessler, ASLA; Korey Schulz, ASLA; Tod Hueser, ASLA; and Rick Howell, ASLA.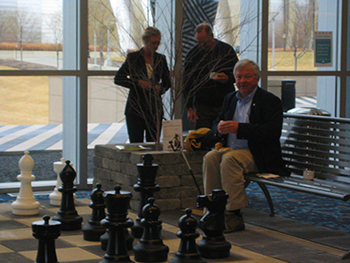 The gaming parklet, designed by Cale Doornbos, ASLA, Kris Smith, ASLA, and Tim McDonnell, ASLA, at 360 Architecture, created a fun, social center where attendees could play chess. 
ASLA Federal Government Affairs Director Roxanne Blackwell moderated a standing-room-only panel discussion titled The Cost of Green Infrastructure: Cheaper Than We Thought. The panel highlighted green infrastructure case studies and projects around the country that are addressing stormwater management needs in an effective and cost-efficient manner. The session also highlighted the ASLA-coauthored report Banking on Green: A Look at How Green Infrastructure Can Save Municipalities Money and Provide Economic Benefits Community-Wide. Featured panelists included a local favorite, Kansas City Councilwoman Jan Marcuson, who represents downtown Kansas City, Missouri, and is one of the region's greatest advocates for green infrastructure. ASLA President-Elect Mark Focht, FASLA, presented on the "New Philadelphia Story" and how the city of Philadelphia is implementing an aggressive $800 million green infrastructure program across the city to manage its stormwater and comply with a recent Environmental Protection Agency agreement. Focht pointed out that the initiative is designed to manage much of the city's stormwater on site and will save the city millions of dollars. Kevin Robert Perry, ASLA, highlighted many of his pioneering green streets projects in Portland, Oregon, and across the country, while Research Analyst Martha Sheils "crunched the numbers" on innovative green infrastructure projects in New England and the Midwest.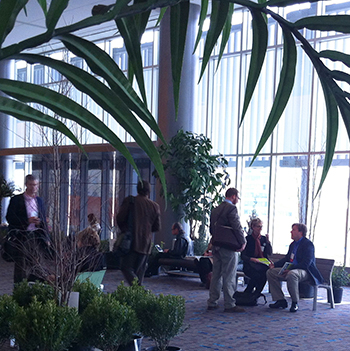 This parklet was inspired by the history of the Kansas City area's fantastic park system and was designed by Tod Hueser, ASLA, of Johnson County Park and Recreation District.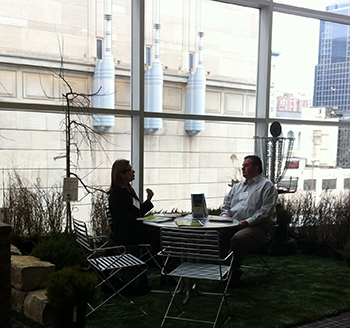 This interactive media parklet, designed by Jim Schuessler, ASLA, at BNIM, incorporated an online connection to the conference crowdsourcing website, allowing attendees to engage the website to document their thoughts and respond to specific questions.
Other popular education sessions included A Nation of Vibrant Communities: Through the Lens of Urban Trees, with presenter David Rouse, ASLA; Green Infrastructure as Convergence of Political Leadership, Architecture, and Engineering, with presenter Jim Schuessler, ASLA; and Getting to Complete Streets the Grassroots Way, with presenter Lissa Thompson, ASLA.
The conference culminated with a sponsors' reception where ASLA President-Elect Focht provided remarks on behalf of the Society.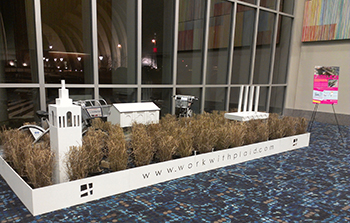 This parklet, designed by Rick Howell, ASLA, Brett Payton, and Trevor Howell of P.LA.ID Collaborative, promotes Kansas City's new bike-sharing system.